Mustard and salt-crusted rib roast with roasted vegetables and horseradish-mustard cream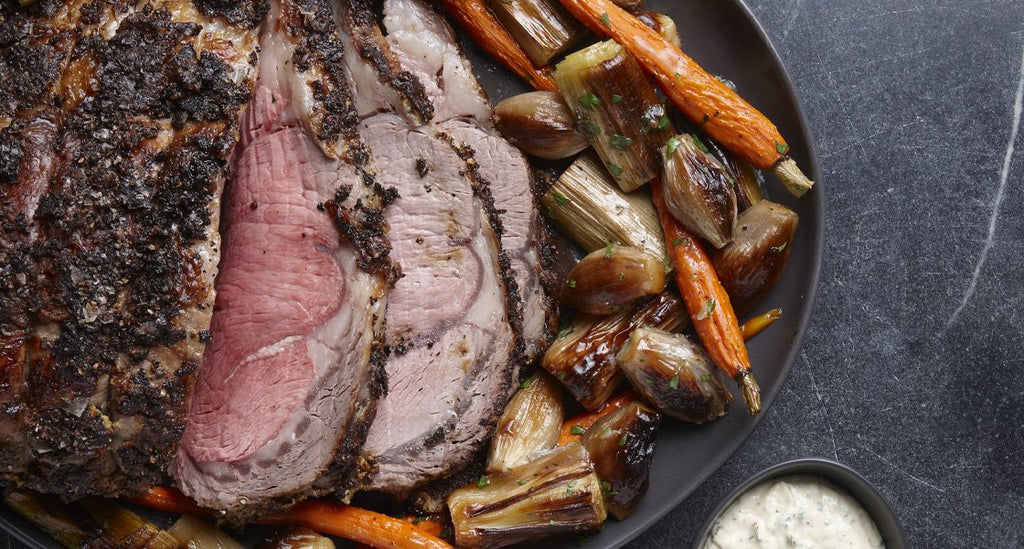 Ingredients
1 4-rib (8- to 9-lb.) standing beef rib-eye roast, bones removed and tied back on (this can be done by your butcher and makes the roast easier to slice)
Kosher salt
3 Tbs. flaky sea salt
2 Tbs. coarsely cracked black peppercorns
1/2 cup plus 2 Tbs. Maille Rich Country Dijon mustard
6 medium carrots, peeled and trimmed
12 medium shallots (about 1 lb.), peeled
3 leeks, tough green tops removed, cut crosswise into 21/2-inch lengths
2 Tbs. olive oil
Freshly ground black pepper
2/3 cup crème fraîche
2 Tbs. drained jarred horseradish
2 Tbs. chopped fresh flat-leaf parsley; more for serving
Preparation
Position a rack in the center of the oven and heat the oven to 450°F.
Remove the roast from the refrigerator, pat dry with paper towels, place on a rimmed baking sheet, and season generously with salt. Let sit, uncovered, for 30 minutes.
Combine the sea salt and cracked pepper in a small bowl. Pat the roast dry again. Using an offset spatula, spread 1/2 cup of the Maille Rich Country Dijon mustard on the roast, creating a thin, even layer. Pat on the salt and pepper mixture, being especially generous on the top of roast and using the palm of your hand to encourage the seasoning to adhere to the sides. Scatter the carrots, shallots, and leeks around the roast, and drizzle with olive oil. Toss the vegetables to coat and season with salt and pepper. Transfer to the oven and roast until the vegetables begin to brown, about 20 minutes. Rotate the pan and reduce the heat to 425°F. Continue to roast until the interior of the meat registers 125°F, about 1 hour more.
Meanwhile, in a small bowl, combine the crème fraîche, horseradish, the remaining 2 Tbs. mustard, and the parsley, and season to taste with salt and pepper. Keep refrigerated until serving.
Remove the roast from the oven and cut the strings from the bones. Let the roast rest for 15 minutes before slicing. Remove the largest chunks of crust from the roast, and serve the beef with the roasted vegetables and horseradish-mustard cream, garnished with additional chopped parsley.
—Fine Cooking for Maille
---