Mustard Chicken Thighs + Baby Potatoes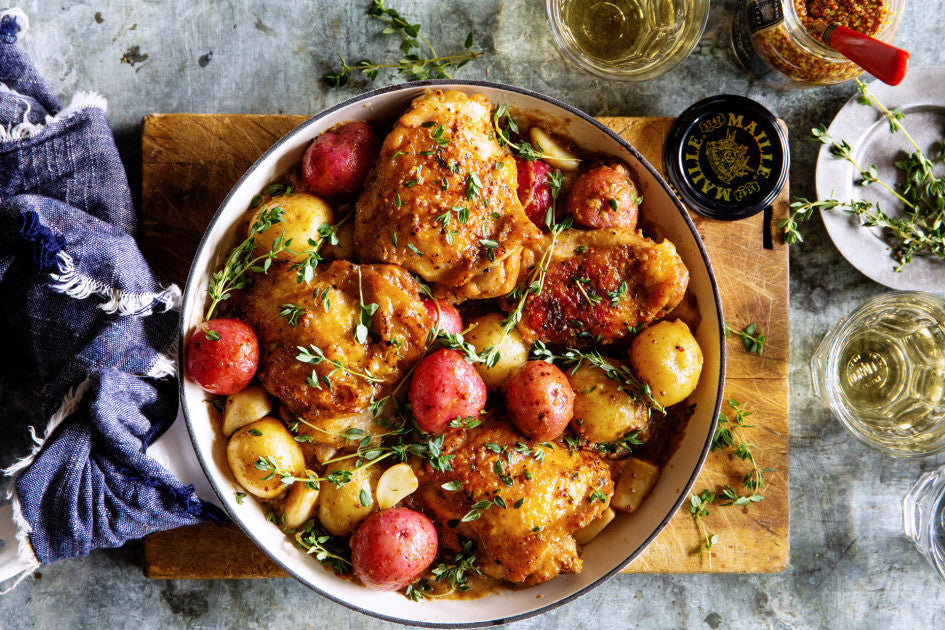 Prep Time: 30 Minutes
Cook time: 1 Hour
Serves: 4-6 People
By: Bakers Royale
Ingredients
4 Tbsp unsalted butter, divided use
3 Tbsp olive oil, divided use
8 bone-in, skin-on chicken thighs
As needed, kosher salt and freshly ground pepper
20 garlic cloves, peeled and uncut
1/4 Cup dry marsala wine
2 Tbsp all purpose flour
1 Cup chicken stock
3 Tbsp Maille Old Style
3 tablespoons fresh lemon juice
1 lb. mini multi-colored potatoes
8 fresh thyme sprigs
Preparation
Heat oven to 375 degrees F.
Season chicken all over with salt and pepper. In a large oven proof pan, over medium high heat, melt 2 tablespoons butter in 2 tablespoons of olive oil. Add the chicken (skin-side down) in batches to avoid crowding. Cook both sides until golden brown, about 6-8 minutes on each side. Remove the chicken from the pan and set aside.
Drain and discard all but 3 tablespoons of oil left behind in the pan. Add the garlic and cook, stirring often until garlic is lightly browned and begins to soften about 1 to 2 minutes. Using a slotted spoon transfer the garlic to the plate with chicken.
Add the marsala wine and reduce by half. Lower the heat and the remaining 2 tablespoons of butter and the flour to the pan. Scrape and stir the pan until a paste is formed. Whisk in the chicken stock, Maille Old Style and lemon juice, bring the liquids to a boil. Remove the pan from heat. Return the chicken (along with any juices) and garlic to the pan, making sure the chicken is placed skin side up.
Toss the potatoes with remaining 1 tablespoon olive oil and season with salt and pepper. Place potatoes and squeezed-out lemon rinds in the pan all round the chicken. Place thyme sprigs on top. Transfer pan to the oven and roast until potatoes are fork tender and chicken juices run clear, about 35 to 40 minutes. Serve immediately.
Enjoy!
---