Mustard Coated Crispy Potato Balls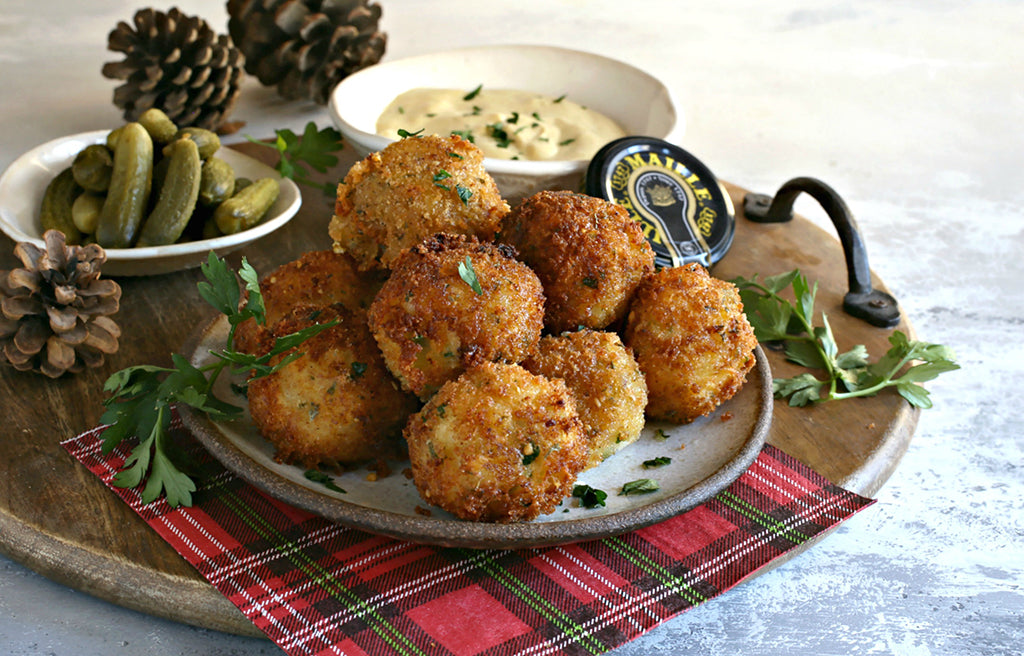 Recipe created by Hungry Couple NYC
Ingredients
2 large baking potatoes, peeled and quartered
2 tbsp butter
1/2 cup of milk
1 cup shredded cheddar cheese
3 tbsp of all purpose flour
2 tbsp chopped parsley
Salt to taste
1/2 cup Maille Dijon Originale Mustard
1 cup seasoned panko breadcrumbs
Canola oil for frying
Preparation
Boil the potatoes in salted water until fork tender. Drain and mash together with the butter and milk. Allow to cool completely or refrigerate overnight before making the crispy balls.
Stir the cheddar cheese, flour and parsley into the cool mashed potatoes and add salt if needed.
Add the Maille Dijon Originale Mustard to one shallow bowl and breadcrumbs to another. Using a 1 oz. scoop, roll balls of the potato mixture, coat with the mustard (note that it is easier to do this with a brush) and then with the breadcrumbs.
Bring about 3" of oil to a temperature of 350 degrees and fry the potato balls, working in batches to avoid overcrowding the pot. Fry for 1 to 2 minutes, rotate and fry for an additional 1 to 2 minutes or until the outside is golden brown.
Drain on a paper towel lined plate and serve hot with your favorite dipping sauce.
---