Mustard Glazed Sheet Pan Chicken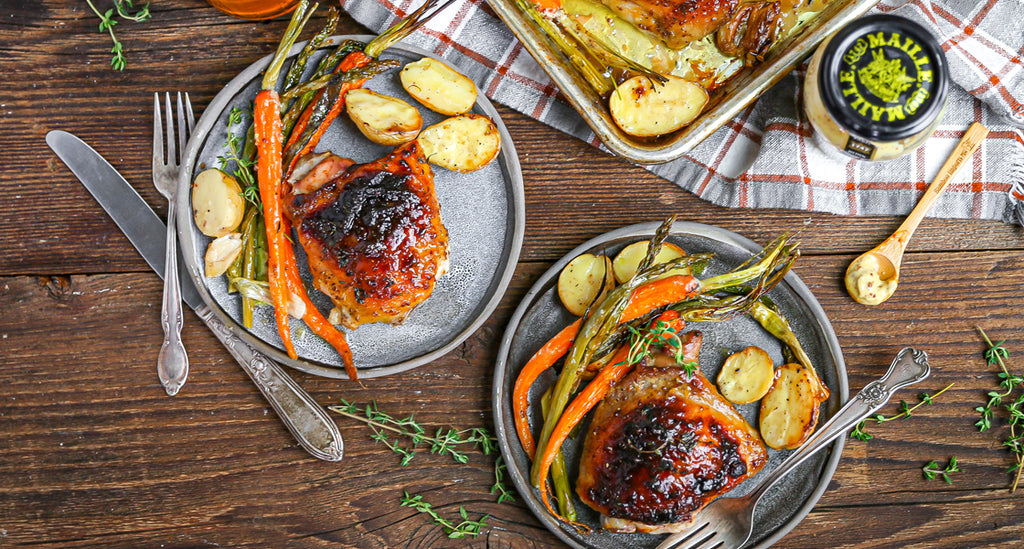 Recipe by: Cathy Roma | What Should I Make For…
Prep Time: 20 minutes
Cook Time: 35 minutes
Servings: 6
Tangy, tender, flavorful mustard glazed sheet pan chicken is weeknight easy, but company worthy!
Ingredients
To cook rice
1 bunch asparagus, ends trimmed
1 bunch whole young carrots with tops, peeled and tops trimmed
1 bunch scallions, ends trimmed
1 lb baby potatoes, halved
4 cloves garlic, peeled and smashed
1/4 cup extra virgin olive oil
kosher salt and pepper
1/3 cup Maille Rich Country Mustard
2 Tbsp light brown sugar, packed
2 Tbsp honey
2 1/2 lbs chicken thighs, bone-in, skin on
10 sprigs fresh thyme
salt
Preparation
Preheat the oven to 425 degrees. Line a sheet pan with parchment paper. Scatter the asparagus, carrots, scallions, potatoes and garlic evenly on the tray. Drizzle with olive oil and season with salt and pepper.
In a small bowl whisk together the mustard, brown sugar, honey and a pinch of salt.
Nestle the chicken thighs on the sheet pan and season them with kosher salt and pepper. Brush the chicken liberally with the mustard glaze and drizzle a little glaze over the vegetables as well. Scatter the thyme sprigs over the vegetables and the chicken.
Roast for 30-35 mins, rotating the pan occasionally to be sure the vegetables roast evenly. Remove when the chicken is cooked through (an instant read thermometer should read 160 degrees F) and the skin is browned and crispy. Serve immediately.
Notes
Line that sheet pan! Parchment paper or nonstick foil are ideal to prevent sticking and easier clean-up.
I recommend skin-on, bone-in chicken thighs for optimal flavor. Skinless or boneless can be substituted if you prefer.
I love the look of whole carrots, scallions and asparagus, but they can be chopped into 1-2 inch pieces if you prefer.
Be sure to drizzle a little glaze over the vegetables for added flavor.
If you're not sure when the chicken is cooked through, use an instant read thermometer to check for doneness.
---