Maille One-Pan Dijon Fish and Green Beans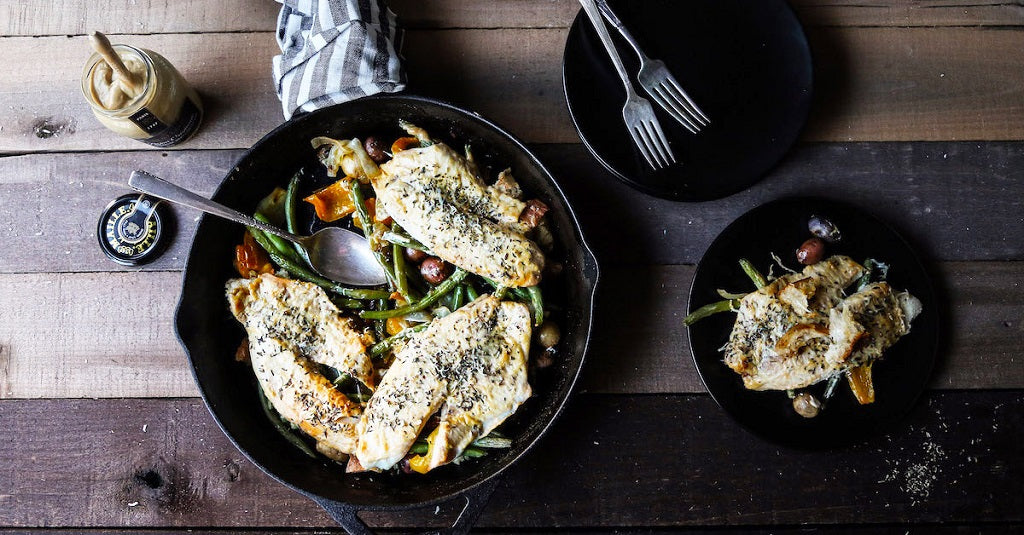 Recipe created by: Runway Chef
Serves: 4
Ingredients
2 tablespoons olive oil
3 cloves garlic, diced
½ a medium-size onion, thinly sliced
1 large bell pepper, chopped
1 cup mini potatoes
1 ½ cups bread cubes (something like a ciabatta works well for this recipe)
6 ounces fresh green beans, ends removed
2 tablespoons Maille Traditional Dijon Originale Mustard
2 tablespoons mayonnaise
1 pound (4 pieces) tilapia (or other mild white fish)
¼ teaspoon sea salt flakes
¾ teaspoon Herbs de Provence
¼ cup grated parmesan cheese
Preparation
Preheat to 350°.
Heat the olive oil in a large cast iron skillet set over medium heat.
Add the garlic, onion, pepper and potatoes and sauté, stirring occasionally, for 5 minutes.
Mix in the bread and green beans and continuing cooking for 2 more minutes.
Remove the pan from the heat.
In a separate bowl, stir together the Maille Traditional Dijon Originale Mustard and mayonnaise.
Coat both sides of each piece of fish with the mustard mixture, using about 1 tablespoon of mixture per piece.
Place the fish on top of the sautéed vegetable mixture, then sprinkle everything with salt, Herbs de Provence and parmesan cheese.
Bake for 18-20 minutes, until the edges of the fish start to turn golden brown and it's cooked through, and you can pierce the potatoes with a fork. Serve immediately.
---