One Pan Roasted Turkey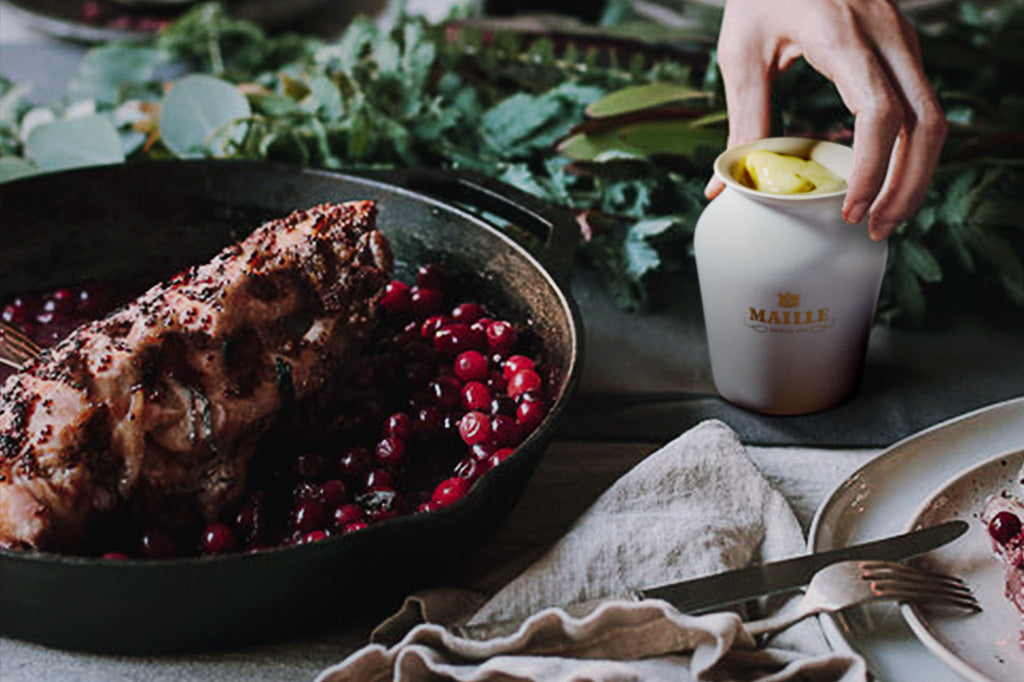 Recipe created by Runway Chef
Serves: 4
prep time: 10 minutes
cook time: 45-60 minutes
Ingredients
5 cups cranberries (frozen)
6 tablespoons Maille Old Style Mustard
1 cup bourbon
1/4 teaspoon salt
½ cup maple syrup
1/3 cup water
2 ¼-2 ½ pound turkey breast, bone in
1 small acorn squash, sliced into wedges
Fresh sage
Olive oil
Salt + pepper
Preparation
Preheat oven to 400 degrees.
In a 10-12" cast iron skillet, stir together the cranberries, 4 tablespoons of the Maille Old Style Mustard, bourbon, maple syrup and water, until combined.
Place the turkey on top of the cranberry mixture, then arrange the squash slices around the meat. Drizzle everything generously with olive oil. Then coat the turkey with the remaining 2 tablespoons of Maille Old Style Mustard and gently rub it into the turkey skin so that it combines with the olive oil to form a bit of a crust while baking. Sprinkle the squash with some fresh sage, then finish off both the vegetable and the meat with fresh ground salt and pepper.
Bake for 45-60 minutes, or until the meat reaches an internal temperature of 165 degrees, and the liquid has mostly evaporated from the cranberry sauce.
Remove the pan from the oven and allow the meat to set for a few minutes before slicing and serving, alongside the squash, topped with cranberry sauce.
---