Orzo Stuffed Roasted Squash Bowls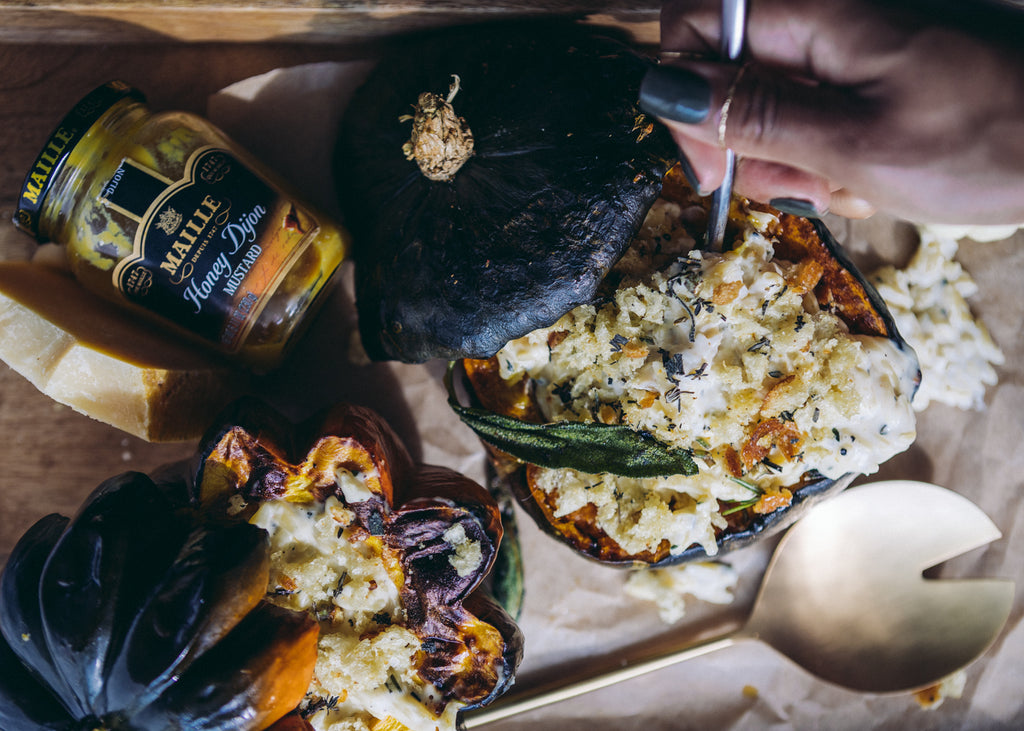 Recipe by: SweetandSorrel
Prep Time: 5 minutes
Cook Time: 40 minutes
Servings: 4
Ingredients
2 Tbsp Olive Oil
2 Large Slices Rustic Bread, Cubed
1/4 Cup Fresh Herb Blend, Finely Chopped (Thyme, Rosemary, Sage)
4 ea Small Squash (Kabocha or Acorn)
3 Cloves Garlic, Mincedr
1 Tbsp Flour
2 Cups Half and Half
2 tsp Maille Dijon Originale
1/2 cup Cheese blend (gruyere, asiago, parmesan) + More for topping
1 tsp Paprika
4 Cups Cooked Orzo
T.T Salt and Pepper
Preparation
Preheat the oven to 400 degrees F. Grease a large baking sheet and line with parchment paper.
Make the herb breadcrumbs. Heat 1 tbsp of olive oil in a large skillet over medium-high heat. Add cubed bread and toast until brown, about 2 minutes per side. Place toasted bread and half the herb blend in a food processor. Pulse 5-10, until mixture turns crumbly. Set aside.
Cut off the tops of the squash, but do not discard! Use a spoon to scoop the seeds from inside the squash bowls, then coat with olive oil. Place squash bowls and tops onto lined baking sheets. Bake for 30-35 minutes, until squash becomes tender and browned on top.
Heat the remaining 1 tbsp of olive oil in a dutch oven over medium heat. Add minced garlic and remaining herbs and cook until fragrant, about 1 minute. Make a roux by adding flour to the dutch oven, then gradually whisk in the half and half and Maille Honey Dijon Mustard. Whisk constantly until smooth, about 1 minute. Add grated cheeses and paprika. Whisk until sauce thickens and cheese is fully melted. Reduce heat to a simmer, then add cooked orzo and stir until orzo is fully coated. Season with salt and pepper.
Spoon orzo into the cooked squash bowls. Top with more cheese and the herb breadcrumbs, then return to the oven and broil for 2-3 minutes, until the cheese melts and breadcrumbs are golden brown. Enjoy!
---