Pho Soup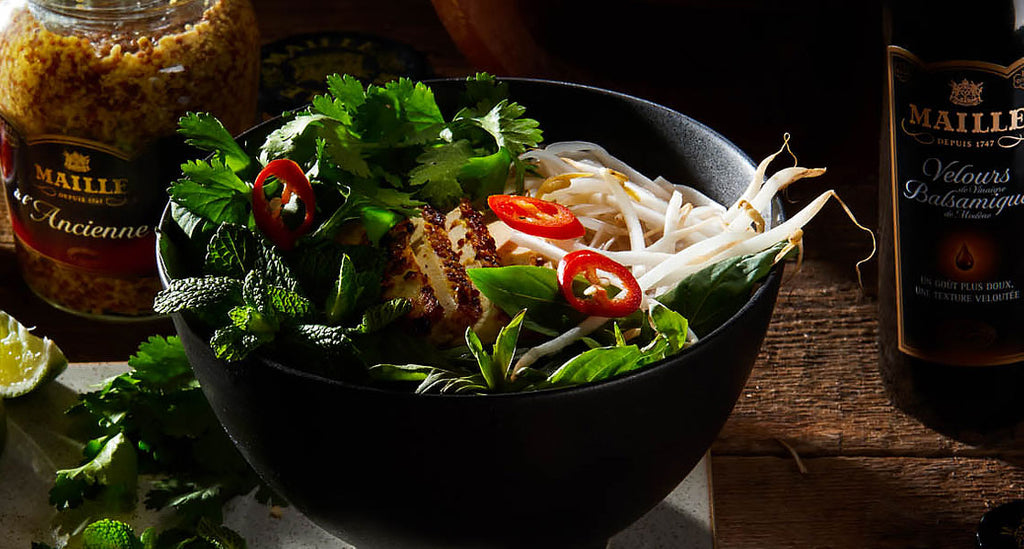 Ingredients
500 gr rice noodles
1 lt vegetable stock
280 gr tofu
1 tsp chinese 5 spices mix
1 tsp cornflower
2 tbsp Maille Wholegrain mustard
1 handful of fresh coriander
1 handful of fresh Thai basil
1 handful of fresh mint
1-2 red chillies
Preparation
Remove the tofu from the water in the pack, sprinkle evenly with the cornflour and spread evenly with the Maille Wholegrain mustard. Cook in a nonstick pan on all sides until golden brown on the edges.
Add the Chinese 5 spices and vegetable stock in medium size pot and bring to the boil.
Add the noodles and stir until soft, separate noodles and broth in 2 bowls.
Slice the tofu in even slices and split between the 2 bowls.
Serve with the herbs and chillies on a plate, add the desired amount of different herbs to your bowl and enjoy while it is still hot.
Maille Tip
Use your toppings one at a time, flavoring your Pho as you eat, why have one Pho flavor when you can have many?
---