Pink Grapefruit & Beet Salad with Greens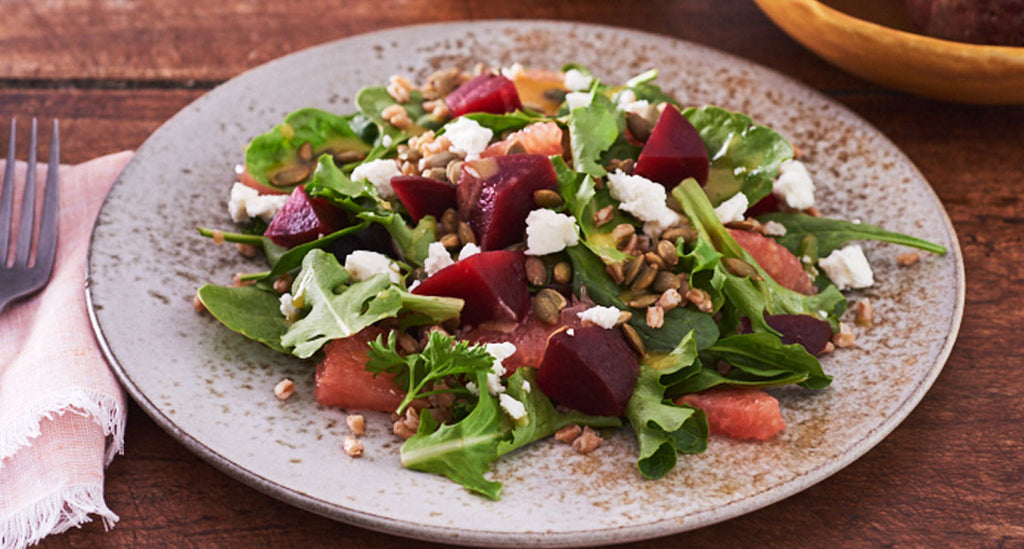 Recipe by: Jen May
Prep Time: 20 minutes
Cook Time: 20 minutes
Servings: 8
Ingredients
For Dressing:
For Salad:
1 cup uncooked farro, cooked according to package directions and cooled (about 2 cups)
6 cups spring salad mix
1 large pink grapefruit, peel and white pith removed, sliced, slices quartered, (about 3 cups)
2 cups bite-size chunks cooked beets
¼ cup toasted pumpkin seeds
¼ cup crumbled feta cheese
Preparation
For Dressing: whisk all ingredients in small bowl; set aside.
For Salad: Gently toss farro, spring mix, grapefruit, beets, 2 tbsp. pumpkin seeds, 2 tbsp. feta and half of the dressing in large salad bowl. Sprinkle with remaining seeds, feta and drizzle with remaining dressing. Season, if desired, with cracked black pepper.
---