Pork Wellington with Fennel, Apples, and Dijon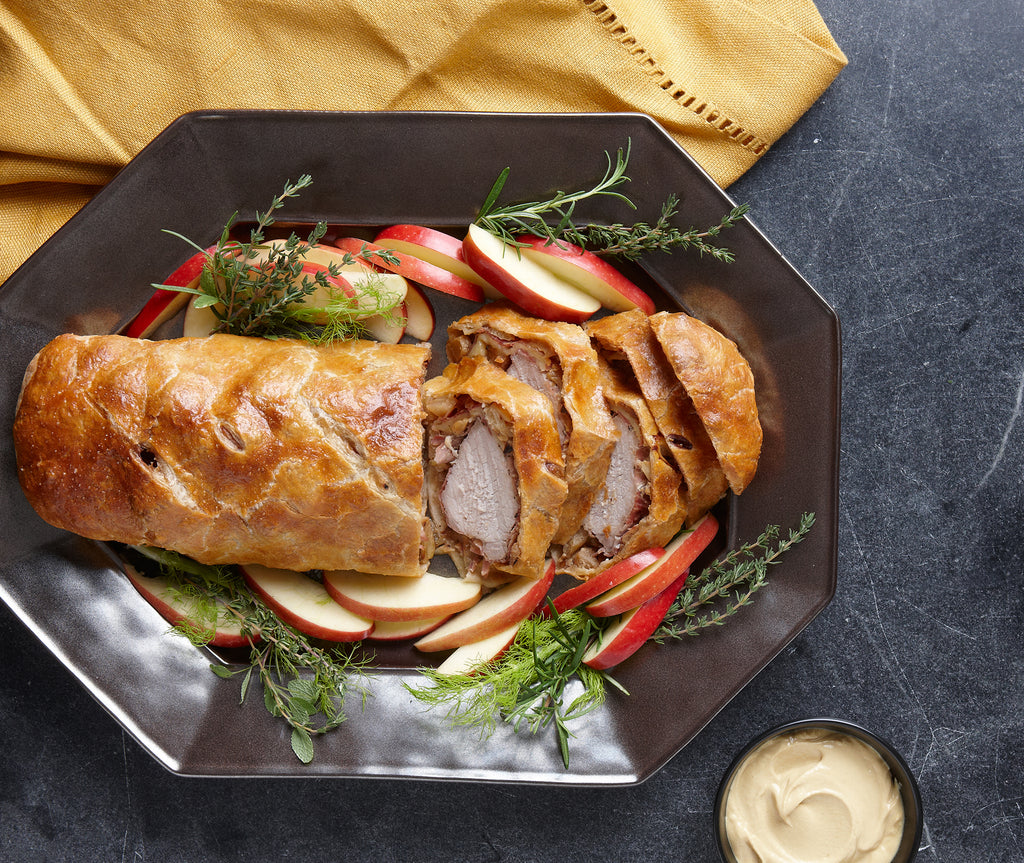 Recipe developed by: Fine Cooking
Ingredients
2 Tbs. olive oil
1 medium bulb fennel, cored and roughly chopped (2 cups)
1 medium apple, peeled, cored, and diced (1 cup)
1/2 tsp. red pepper flakes
Kosher salt and freshly ground black pepper
2 Tbs. Maille Dijon mustard; more for serving
1 pork tenderloin (about 1 lb.)
1 (14-oz.) sheet frozen puff pastry, thawed
4 oz. thinly sliced prosciutto
1 large egg, beaten
Preparation
In a large skillet, heat the olive oil over medium-high heat until shimmering. Add the fennel, apple, and red pepper flakes and season lightly with salt and pepper. Cook, stirring occasionally with a wooden spoon, until deeply golden, about 10 minutes. Remove from the heat, stir in the Maille Dijon mustard, and let cool completely.
Line a rimmed baking sheet with parchment paper.
On a lightly floured surface, roll the puff pastry to a rectangle roughly 15 x 12 in., with the long end facing you. Spread the fennel mixture in an even layer over the pastry, leaving a 1/2-inch border. Brush the border with the beaten egg. Shingle the prosciutto over the fennel to cover so that it is slightly overlapping, about 4 slices per row. Season the pork tenderloin lightly with salt and pepper, place it along the bottom edge of the pastry, and fold 1 to 2 inches of the tapered end toward the thicker end to make for a more even roast. Hold the roast to secure, and roll the pastry and tenderloin away from you, using a bench scraper if necessary to help facilitate rolling. Turn the roll seam side up. Brush the overhanging dough with egg, and then fold the overhang up toward the seam and press gently to seal. Place the Wellington on the prepared baking sheet, seam side down. Refrigerate the roast for at least 30 minutes.
Position a rack in the center of the oven and heat the oven to 425°F.
Brush with the egg, and using a sharp paring knife, cut 4 to 5 incisions along the top of the pastry to vent. Transfer to the oven and bake, rotating halfway through, until the pastry is golden and the roast registers 140°F to 145°F, in the center, about 35 minutes.
Remove the roast from the oven and transfer to a cooling rack. Let rest for 5 minutes before serving with additional mustard on the side.
---