Maille Potato Rosti And Poached Egg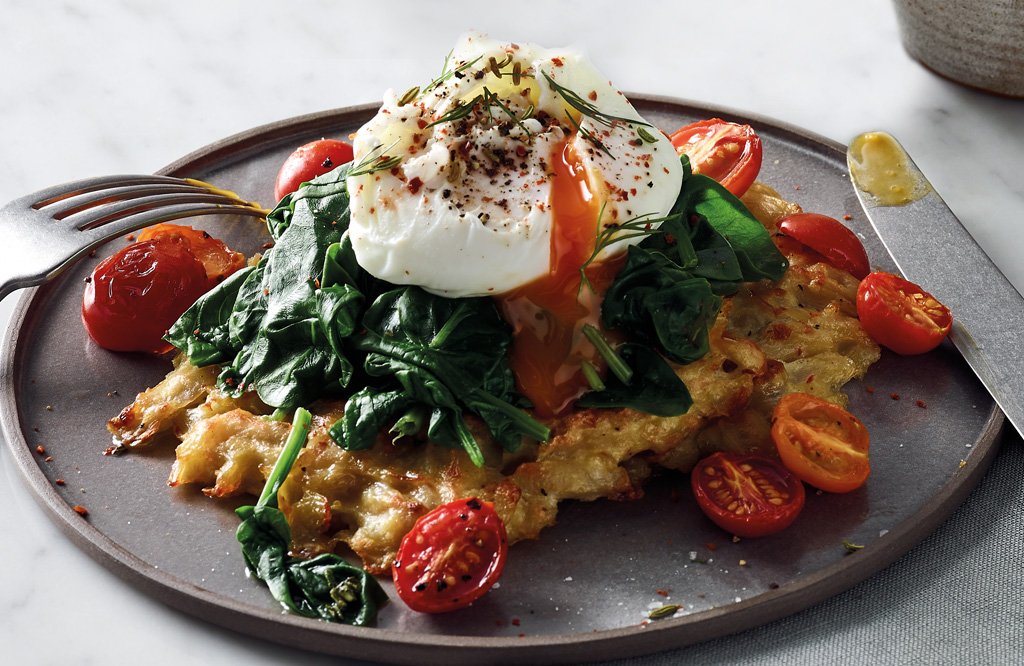 Ingredients
2 floury potatoes
2 tbsps butter
1/2 cup spinach
1/4 cup cherry tomatoes
1 egg

1 tbsp olive oil

1 drop of vinegar
Preparation
Grate the potatoes coarsely into a clean tea towel. Fold the towel around the potato to form a ball and squeeze to remove as much moisture as possible. Season the potato with the Maille Chablis White Wine and Black Truffle Mustard, then divide into four equal portions.

Heat a large frying pan over a medium heat and add the two tablespoons of butter, add the 4 portions with a tablespoon and spread evenly.

Fry the rosti for 3-4 minutes on both sides, or until golden-brown all over and tender all the way through, adding more oil or fat if required. Season with salt, then remove from the pan and drain on kitchen paper.
Wilt the spinach with a tsp of butter and place on the rosti.
Crack your egg into a bowl or onto a saucer. If there is any very runny white surrounding the thicker white then tip this away.
Bring a pan of water at least 5cm deep to a simmer, add the vinegar. Stir the water to create a gentle whirlpool to help the egg white wrap around the yolk. Slowly tip the egg into the centre. Make sure the heat is low enough not to throw the egg around – there should only be small bubbles rising. Cook for 3-4 minutes or until the white is set.
Assemble the spinach on the rosti and place the poached egg on top.
Sprinkle with cracked pepper to finish (optional).
---