Potato Salad with Beetroot and Diced Comté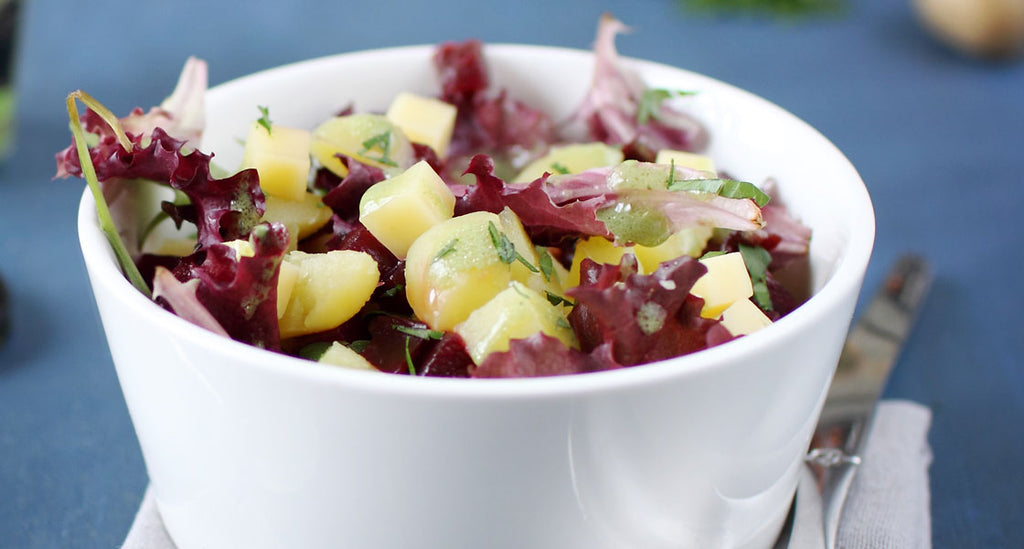 End the summer and begin the fall with this vegetarian salad, drizzled with Maille's mustard with fine Herbs and red wine vinegar.
Prep Time: 35 minutes
Cooking Time: 25 minutes
Total Time: 60 minutes
Course: Starter
Serves: 4 people
Preparation
Pour water into a saucepan, add the unpeeled potatoes and cook over medium heat for 25 minutes. Drain and cool before peeling.
While the potatoes are cooking, dice the cheese and beetroot.
Wash the salad, dry it and cut it.
In a small bowl, add the Pesto and Arugula Mustard with White Wine and White Balsamic Vinegar. Season lightly with salt and pepper. Mix with a whisk.
Gradually add the oil while the vinaigrette forms.
Then put all the vegetables and cheese into a bowl.
Drizzle with the vinaigrette and mix gently.
To serve, add the chopped parsley.
Chef's Tips
The cooking time of the potatoes varies from one variety to another and also by their size. You can test the potatoes with the blade of a knife; push the blade in the centre of the potato, if it goes in easily the potatoes are cooked. Also Instead of Comté, you can use Gruyère.
---