Pretzanella: A German Pretzel Salad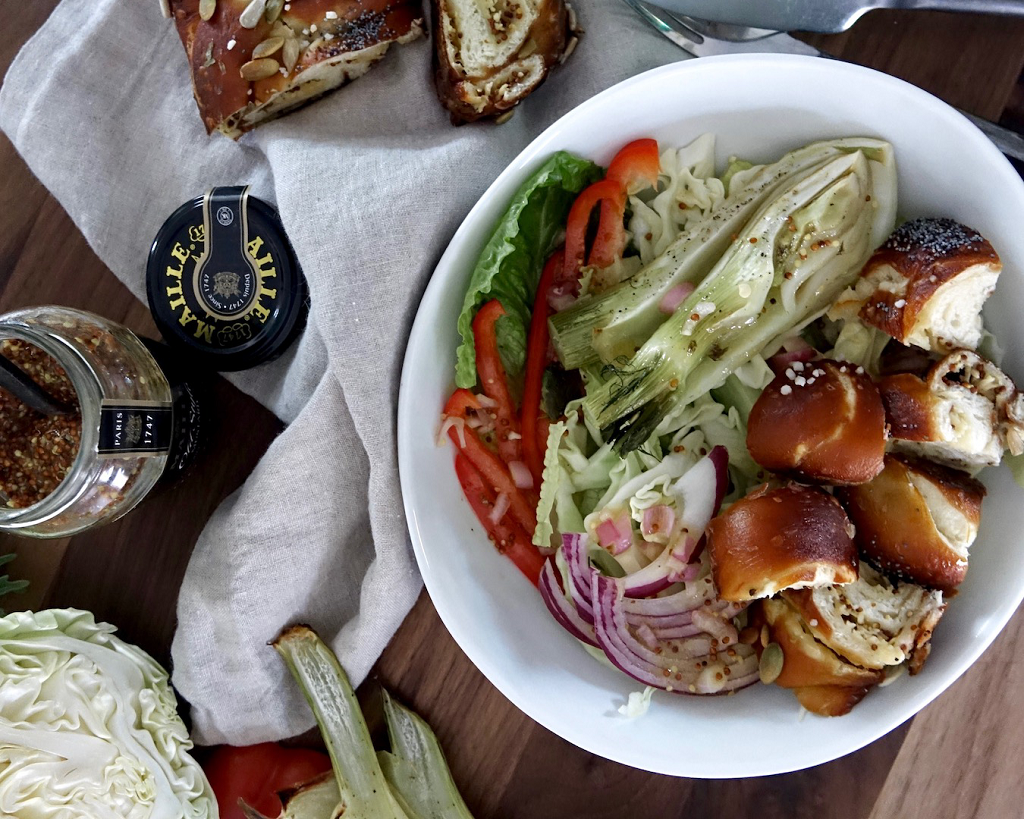 Recipe created by: dirndlkitchen.com
Servings: 4 as main course or 6 to 8 as side salad
Ingredients
For the pretzel bread (makes two loaves):
4 cups (500 g) all-purpose flour
1 package (7 g) dry yeast
2.5 Tbsp (15 g) brown sugar
2 Tbsp (30 g) butter
2 tsp (10 g) salt
1.7 oz (50 ml/g) warm water
7.6 oz (225 ml/g) ice cold water
About 3 oz (85 g) Maille Old Style mustard
About 6 oz (170g g) grated Gouda cheese
Sprinkle with: pumpkin seeds, sunflower seeds, poppy seeds, pretzel salt
For the Lye solution (best to use a kitchen scale to measure):
1000 ml (1000 g or 33.8 oz) water
40 g (1.41 oz) lye 
For the salad:
2 hearts of romaine lettuce, rinsed and roughly chopped

1/3 head of white cabbage, rinsed and thinly sliced

1/2 red onion, peeled and sliced

1 red bell pepper, cored and sliced
2 fennel bulbs, ends trimmed
For the vinaigrette:
1/2 cup good olive oil

2 Tbsp red wine vinegar

1 Tbsp Maille Old Style mustard

1 Tbsp apricot jam

1 shallot, peeled and small diced

1 tsp dried Herbs the Provence

Fresh ground pepper and salt to taste

Preparation
To make your pretzel bread, combine brown sugar, dry yeast and warm water and allow to sit for 5 minutes until the yeast starts to activate and bubble.
In a large bowl, combine sifted flour, salt, room temperature butter (heat for a few seconds in microwave if too cold) with the yeast mixture. Then add ice cold water and knead for 8 to 10 minutes or until you achieve a smooth, elastic dough.
Cover the bowl with plastic wrap or a damp towel and place in a warm spot. Allow to rise for 1 to 2 hours or until doubled in size. You can also prepare the dough the night before and keep it in the fridge.
When ready to start working with the dough, preheat your oven to 420 degrees Fahrenheit or 220 degrees Celsius.
On a flour dusted surface, roll out the dough to a rectangular shape and approximate proportions of 2 to 1. Cut into 4 strips lengthwise (I use a pizza cutter).
In the middle of each strip, distribute some Maille Old Style mustard using a spoon. Top off with the grated Gouda cheese. Then brush water onto the dough surrounding the mustard-cheese and fold the dough over the filling, first sealing it (the water helps make it stick), then rolling it over itself to form four stuffed logs.
Cross 2 stuffed logs half way, then start braiding the loaves and fold under at the end.
Prepare your lye solution, making sure to follow the important guidelines mentioned in the notes below.
Carefully, wearing rubber gloves and using 2 utensils (ideally 2 steel skimmers, a skimmer and a spatula also works), lift one of the loaves off the floured surface and submerge in the lye solution for about 10 seconds. Carefully remove the loaf with the utensils and place on a baking sheet lined with parchment paper. Bake for 22 minutes on the middle rack. Allow to cool before cubing for the salad.
Cut the trimmed fennel bulbs in half, place on a sheet pan covered with some aluminum foil, sprinkle with olive oil, season with salt and pepper and roast in the oven for 20 minutes.
Toss all prepared vegetables in vinaigrette, arrange on a plate and place a half of each roasted fennel bulb on top, then top off with pretzel cubes.
Notes about cooking with Lye:
Do NOT get in contact with the lye solution. Use food-safe rubber gloves when dipping the loaves.
Any utensils you use should not be wooden (steel utensils and bowl is best).
When preparing the solution, use cold water and ALWAYS add the lye slowly to the water, not the other way around.
This recipe creates a 4 percent solution, meaning 4 grams of lye is added to each 100 ml of water used. For 1000 g or one liter of water, 40 grams of lye is used. A kitchen scale comes in handy for this portion of the recipe.
---