Prosciutto & Crispy Sage Deviled Eggs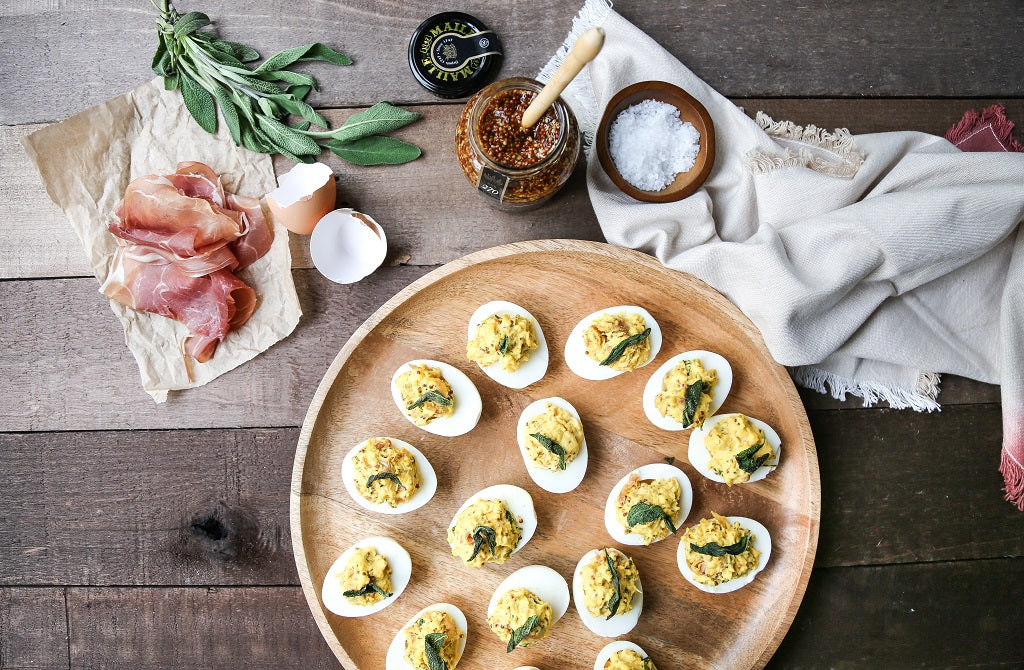 Recipe created by: Runway Chef
Yields: 24
Ingredients
12 eggs, hard boiled + peeled
1 ½ tablespoons of Maille Old Style Mustard
¼ cup + 2 tablespoons of mayonnaise
½ cup diced prosciutto
1 tablespoon crispy sage + more for topping *see note
¼ teaspoon salt
⅛ teaspoon fresh ground pepper 
Preparation 
Slice eggs in half lengthwise. Scoop the yolks out and into a mixing bowl and set the whites aside on a serving dish.
Use a fork to mash the yolks until crumbly. Then add in the Maille Old Style Mustard, mayonnaise, prosciutto, sage, salt and pepper and stir everything together until combined.
Distribute the yolk filling evenly among the egg white halves. Garnish with additional crispy sage and serve immediately. These can also be made 24 hours ahead and kept in the refrigerator until serving. Just wait to add the sage garnish until right before eating.
NOTES
To make crispy sage- Heat 2 tablespoons of olive oil in a small skillet over medium-high heat until the oil is hot. Add in ¼ cup of fresh sage leaves (stems removed) and toss, cooking for 40-60 seconds, or just until the leaves start to crisp. Remove to a paper towel and allow to cool before using.
As an alternative to prosciutto, you can also use cooked, crumbled bacon pieces.
---