Puff Pastry Sausage Rolls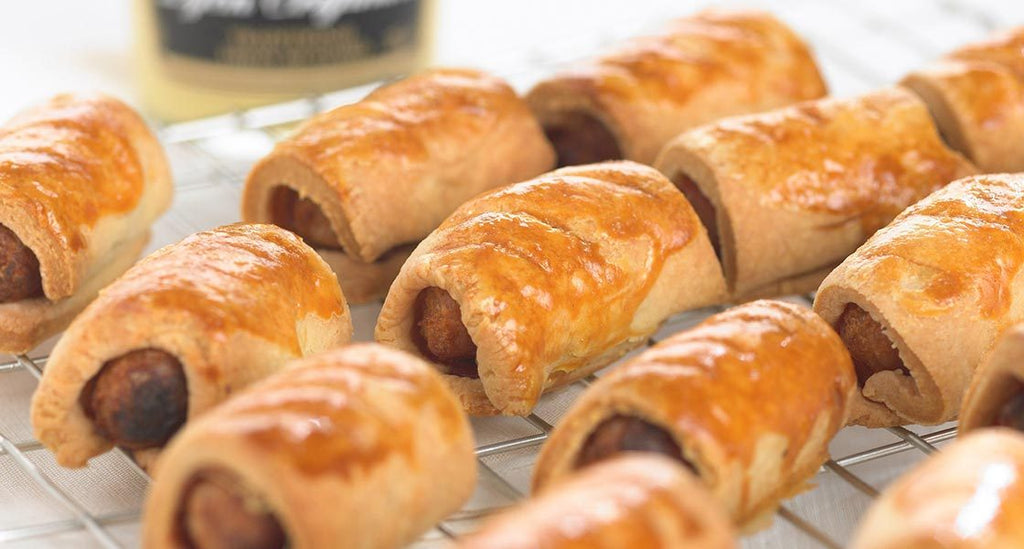 Ingredients
For the pastry
1 ½ cups all-purpose flour
½ cup (1 stick) cold butter, cut into bits
2 eggs, divided
2 tbsp. Maille Dijon Originale mustard, divided
2 tbsp. vegetable oil
1 (12 oz.) package cocktail franks
8 slices ham, cut into 35 even strips
Preparation
For pastry, process flour, butter, 1 egg and 1 teaspoon Maille Dijon Originale mustard, in food processor until a ball begins to form around the blade. Remove and lightly shape into a ball. Wrap in plastic wrap and chill in refrigerator 30 minutes.
Meanwhile, heat oil in large skillet over medium-high heat and brown franks on all sides. Remove from skillet; cool, then wrap in ham.
Preheat oven to 400°.
Roll out pastry on a lightly floured surface into 10 ½ x 15-inch rectangle. Cut into 1 ½ x 3-inch smaller rectangles, large enough to enclose frank. Evenly brush with remaining mustard, leaving edges clean. Wrap franks in pastry and seal with remaining egg, beaten. Make slash marks along the top of each sausage roll and then brush with the beaten egg.
Bake 15 minutes or until pastry is golden brown.
---