Quiche Lorraine with Hash Brown Crust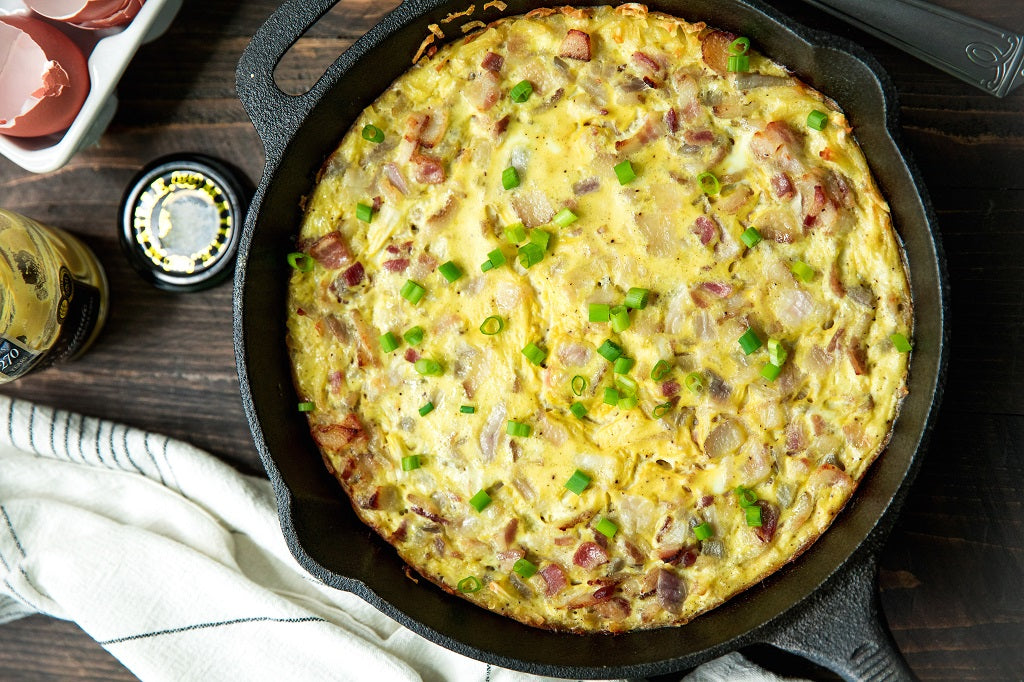 Recipe created by: Kims Cravings
Servings: 6 slices
Prep time: 15 minutes
Cook time: 30 minutes
Ingredients
1 pound shredded frozen hash browns, thawed
1 tablespoon olive oil, melted butter, or ghee
1 teaspoon salt, divided
6 ounces bacon, chopped (about 6 slices)
1 small onion, diced
1 garlic clove, minced
2 egg yolks
2 eggs
1 1/2 cups milk*
2 tablespoons Maille Traditional Dijon Originale Mustard
1/4 teaspoon pepper
2/3 cup shredded cheese (cheddar, Swiss, or gruyere)
2 tablespoons chopped chives (optional for garnish)
Preparation
Mix hash browns, 1 tablespoon olive oil and 1/2 teaspoon salt in a mixing bowl
Grease a 10″ oven-safe skillet and add the hash brown mixture, pressing down to pack it tightly on the bottom and sides forming a pie-like crust.
Bake at 425ºF or until the edges have browned, about 25-30 minutes.
While the crust is baking, cook bacon over medium heat until crisp. With a slotted spoon, transfer cooked bacon to a paper towel-lined plate to drain.
In the same pan, cook onion and garlic into the pan until the onion is translucent and soft. Remove from the stove and set aside to cool slightly.
Place egg yolks, eggs, milk, Maille Traditional Dijon Originale Mustard, 1/2 teaspoon salt and pepper in a bowl and whisk to combine.
When the crust is light golden brown on the surface of the base and golden brown on the walls of the crust (around 30 minutes), remove from the oven.
Scatter the bacon and onion garlic mixture across the base, then the cheese. Last, pour the egg mixture in.
Return the quiche to the oven and turn the oven down to 350ºF.
Bake for 25-30 minutes, or until the filling is set. Test this either by inserting a toothpick or butter knife into the center (it should come out clean) or by touching the center gently (it should spring back).
Let it rest for 5 to 10 minutes before serving. Garnish with fresh chopped chives and enjoy!
---