Quinoa and Roasted Root Vegetables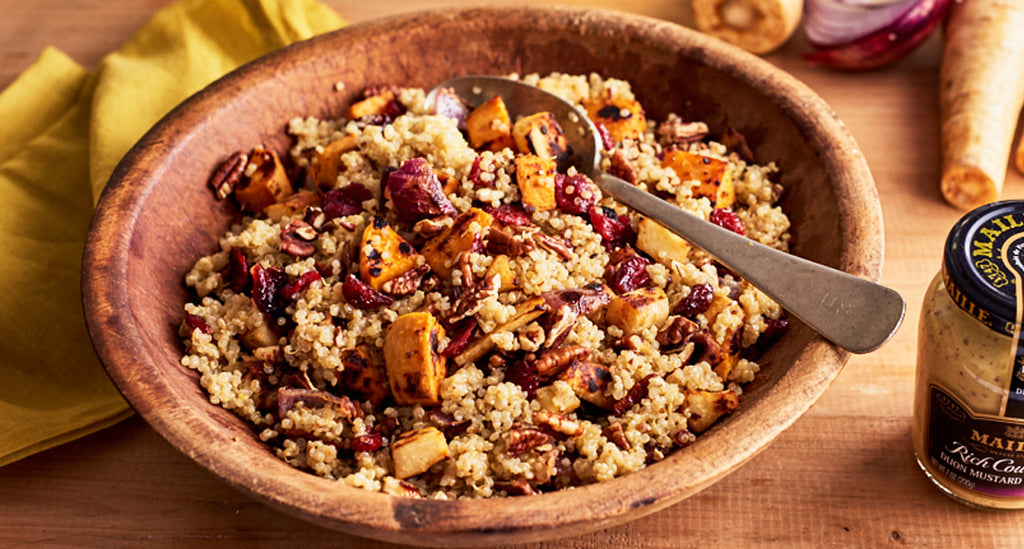 Recipe by: Jen May
Prep Time: 10 minutes
Cook Time: 30 minutes
Servings: 8
Ingredients
½ cup olive oil, divided
6 tbsp. Maille Rich Country mustard, divided
1 small sweet potato, peeled and cut into chunks, (about 2 cups)
1 medium parsnip or turnip, peeled and cut into chunks, (about 1 cup)
1 small red onion, coarsely chopped, (about 1 cup)
2 tbsp. white balsamic vinegar
3 cups cooked, cooled quinoa
½ cup dried cranberries
¼ cup coarsely chopped toasted pecans
Preparation
Preheat oven to 425°. Spray rimmed baking sheet with no-stick cooking spray.
Mix 1 tbsp. olive oil with 3 tbsp. Maille Rich Country mustard in large bowl. Add vegetables and toss. Arranged on prepared pan and bake 30 minutes or until golden and tender.
Mix remaining 7 tbsp. olive oil, 3 tbsp. mustard and vinegar in a large bowl. Add quinoa, dried cranberries and pecans and toss. Gently stir in roasted vegetables and season, if desired, with salt and pepper.
---