Rainbow Collard Wraps with Maille Dijon Tahini Sauce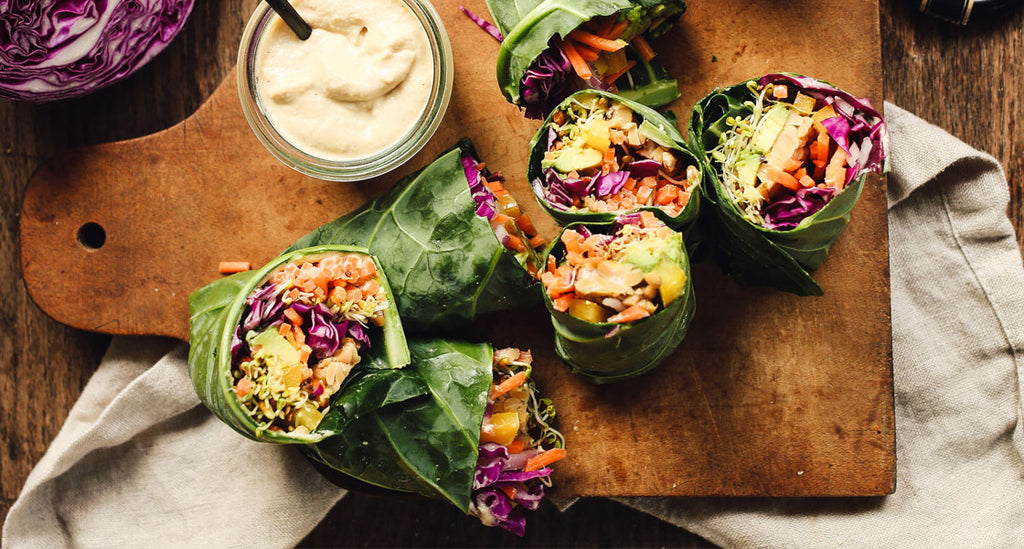 Prep Time: 30 minutes
Cook Time: 6 minutes
Servings: 8 full-sized wraps
Ingredients
Tahini Sauce
For the Wraps
6 oz tempeh
1 tablespoon olive oil
8 large collard leaves, washed, dried and stems trimmed
½ a small head of purple cabbage, thinly sliced
½ red or yellow pepper, cut into matchsticks
½ cup shredded carrots
½ avocado, halved and thinly sliced
½ cup sprouts
¼ of a small red onion, thinly sliced
Preparation
In a small bowl, stir together the tahini sauce ingredients until well combined and smooth. For a thinner sauce, add a little more water or lemon juice and for a thicker sauce, add a little more tahini. Set aside.
In a skillet set over a medium-heat burner, heat 1 tablespoon of olive for about a minute, then add the tempeh. Cook for 3 minutes, then flip it over and cook for another 3 minutes, or until both sides are golden brown. Remove from the pan and allow to cool for a few minutes before thinly slicing.
To assemble the wraps, place a collard leaf on a plate or cutting board. Spread about 1 tablespoon of tahini sauce in the center then top with tempeh and the vegetables of your choice. Roll it up as if you were rolling a burrito, making sure to tuck the ends in. Repeat with the remaining leaves and veggies. Cut the rolls in half and serve with additional tahini sauce, if desired.
Notes
While you can use the collard wraps raw, you can also run them under warm water for about 30 seconds, or blanch them, to make them more pliable. Raw, leftover collard leaves can be washed, dried and stored in an airtight food storage bag until ready for use.
---