Raspberry & Maille Honey Dijon Heart Tart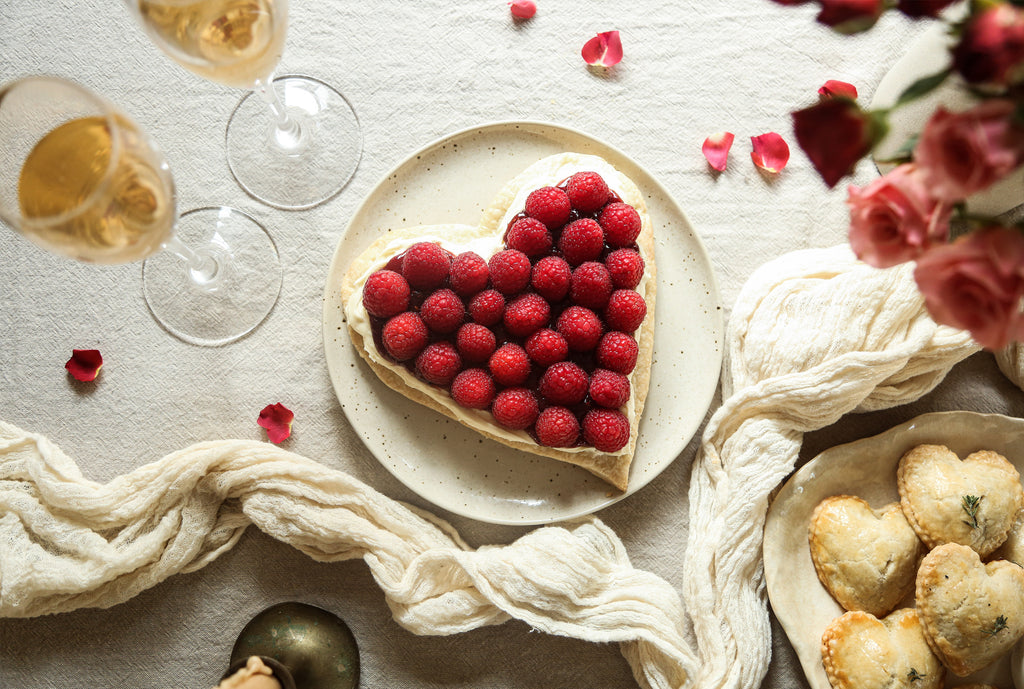 Prep Time: 15 Minutes
Cook time: 17-20 Minutes
Serves: 4
Ingredients
1 pre-made pie crust, softened to room temperature
4 ounces cream cheese, softened to room temperature
3 ounces white chocolate, melted + cooled slightly
2 tsps. Maille Honey Dijon Mustard
1/3 cup raspberry jam
2 cups fresh raspberries
Preparation
Preheat the oven to 350 degrees. Line a baking sheet with parchment paper and set aside.
Roll out the pie crust so that it's about ¼' thick (if it isn't already). Use a sharp knife to cut a heart shape out of the pie (you can make it whatever size you want, but we recommend somewhere between 7-9"). Carefully transfer the heart to the lined baking sheet, prick generously with a fork and then bake for 17-20 minutes, or until the edges turn golden brown. Carefully transfer to a baking rack and allow to cool completely.
Meanwhile, in the bowl of a stand mixer, beat the cream cheese with the melted white chocolate, on medium speed, until the mixture is well incorporated and fluffy. Set aside.
In a small pan, set over low heat, stir together the Maille Honey Dijon Mustard and raspberry jam and cook for 2-3 minutes, until well-combined and smooth. Set aside to cool.
Once the heart is cooled, transfer to a serving plate. Spread with the cream cheese mixture, leaving a small space around the edge.Then spread on the mustard and jam mixture. Arrange the fresh raspberries on top. Slice and serve. The tart can also be made up to two hours before serving. Just store in the refrigerator until ready to serve.
---