Red Pear, Cheddar and Mustard Galette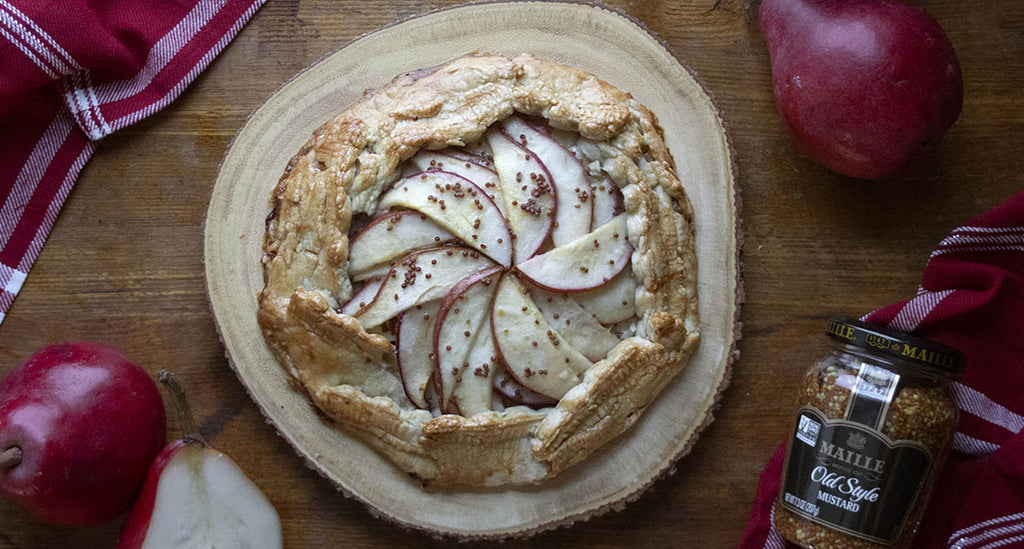 Recipe by: Moody Mixologist
Serves: 4-6 servings
prep time: 10 minutes
cook time: 20 minutes
Ingredients
For the harvest salad:
1 ready-made 9" pie crust, thawed according to package
2 ripe red pears
½ cup sharp cheddar cheese, shredded
2 tbsp Maille Old Style Mustard
1 tbsp honey
1 tbsp butter, melted
1 egg
Method
Preheat to 400°F.
Slice pears thinly and add to a medium-size mixing bowl.
In a small bowl, whisk together melted butter, mustard, and honey. Pour mixture over pears and toss to coat.
Carefully place thawed pie crust on a parchment-lined baking sheet and gently flatten into a circle. Spread cheese evenly onto the crust, stopping 2" from the edges.
Add pear filling. You can simply pour the pears on top of the cheese for a rustic look, or lay them in even layers for a more intentional look. Tip: the more evenly the pears are distributed, the better the final galette will hold together when slicing.
Gently fold over the edge of the crust, working your way around the circle. Don't worry if it isn't very pretty, or if the edge break apart. Simply press them together as best you can. It will look great once it's been baked!
Whisk the egg in a small bowl and brush egg onto the crust. If you have little cracks where the crust has come apart, add a little extra egg wash there, it will seal them right up.
Bake the galette for about 20 minutes, rotating half-way through. When finished, the crust will be a golden brown.
Let cool for at least 15 minutes before slicing. Serve warm or room temperature.
---