Red Velvet Dijon Brownie Hearts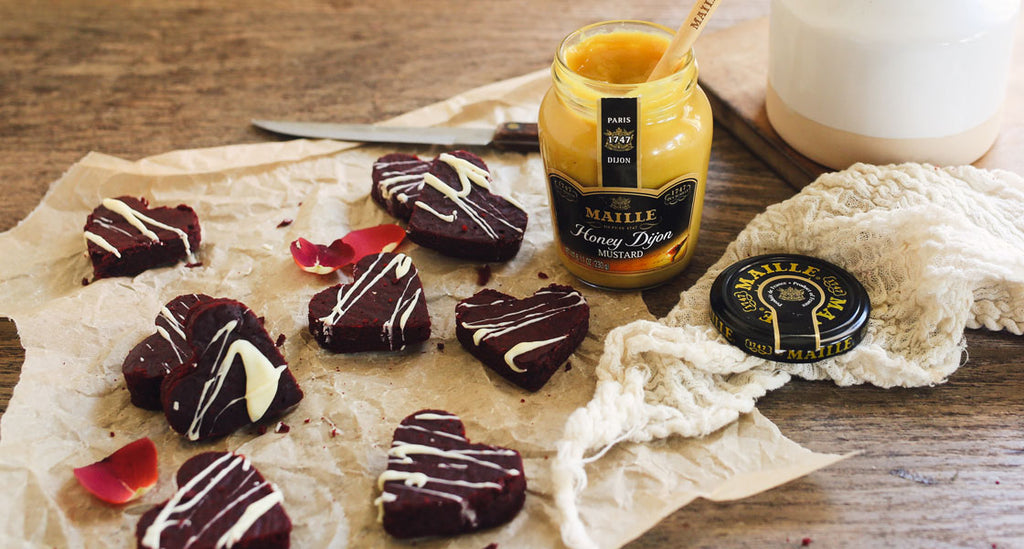 Prep Time: 10 minutes
Cook Time: 15-20 minutes
Servings: 14 Hearts
Ingredients
1 stick unsalted butter
¼ cup dark chocolate chunks
¾ cup granulated sugar
¼ teaspoon sea salt
2 ½ teaspoons Maille Honey Dijon Mustard
1 teaspoon vanilla
1 ounce red food coloring
1 egg
¼ cup cocoa powder
¾ cup all-purpose flour
Optional: Melted white chocolate (for drizzling)
Preparation
Preheat oven to 350 degrees. Line an 8"x8" baking sheet with parchment paper and set aside.
In a large skillet or pot, set over low heat, melt butter and chocolate, stirring continuously. Remove from heat and mix in the sugar until well combined. Then stir in the salt, Maille Honey Dijon Mustard, vanilla and food coloring. Set aside and allow to cool slightly (at least 10 minutes).
Once the mixture has cooled, vigorously stir in the egg until the mixture has thickened and become slightly silkier. Gently fold in the cocoa powder and flour just until incorporated. Pour into the prepared pan and bake for 15-20 minutes, or just until a toothpick inserted in the center comes out clean. Remove from the oven and allow to rest until completely cool (at least 60 minutes).
Use a heart-shaped cookie cutter to cut the brownies into heart shapes. Drizzle with melted white chocolate (if desired) and enjoy!
---