Maille Root Vegetable Cutlets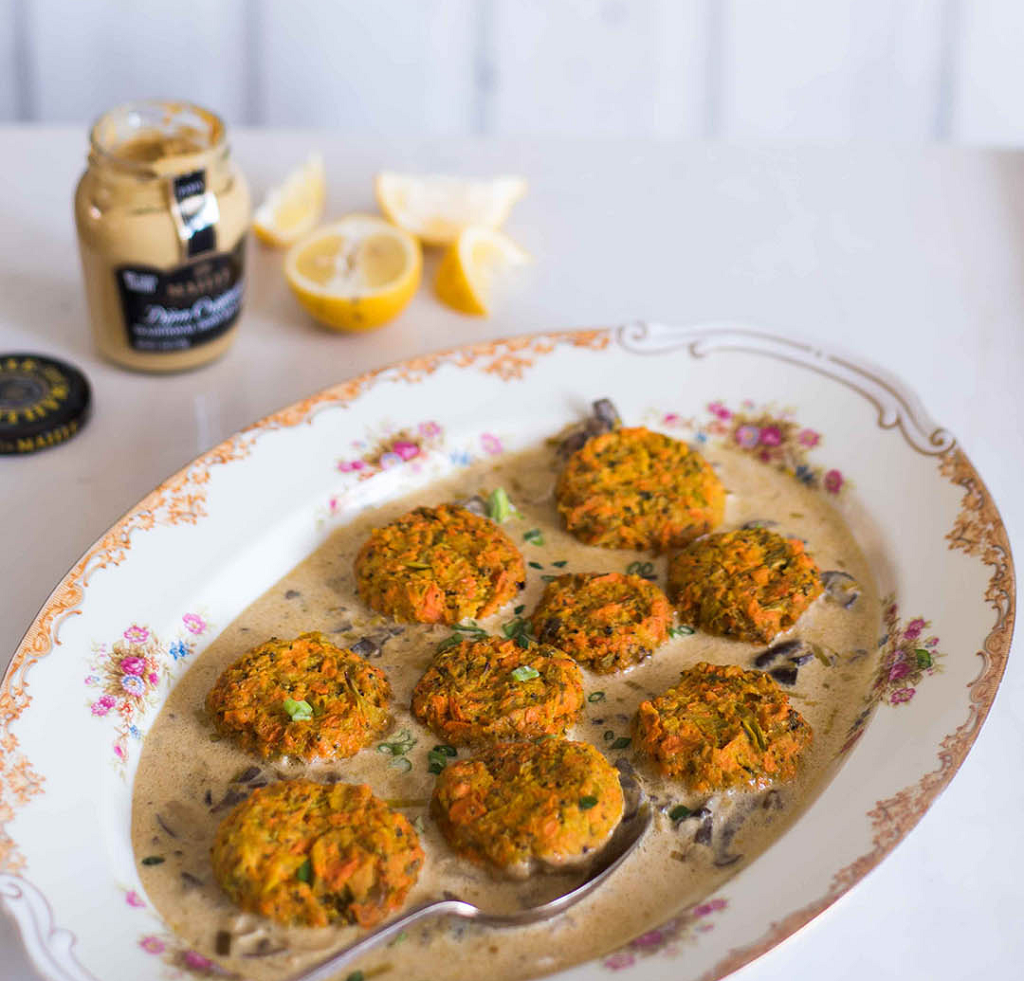 Recipe created by: forkspoonnknife.com
Serves: 8
Ingredients
1 golden beet, diced
2 medium carrots, diced
1 medium sweet potato, diced
1 small broccoli with stalk, diced
1 Tablespoon psyllium husk
2 Tablespoons chickpea flour or regular AP flour
1 egg
1 leek, julienned
1 cup of cremini mushrooms, sliced thin
4 Tablespoons Maille Traditional Dijon Originale Mustard
1/4 cup heavy cream
1 cup vegetable stock or water
Salt, pepper, olive oil as needed
Preparation
Steam the beet, carrots, sweet potatoes and broccoli stalk (reserving the florets for later) till just tender. About 10 minutes in a steamer. Let cool completely.
In a food processor, pulse the steamed vegetables along with the reserved broccoli florets into a coarse mix.
Transfer to a mixing bowl, add the egg, one tablespoon of Maille Traditional Dijon Originale Mustard , one tablespoon olive oil, psyllium husk and flour. Season with salt and pepper. Fold to gently combine.
Preheat oven to 375F.
While the oven heats, line a tray with foil or parchment. Drizzle olive oil generously to coat the base.
Roll handful sizes of vegetable mix into balls, about 2 inch diameter.
Gently pat into a patty and place on tray. This recipe will make 8-9 patties.
Bake till crisp on the outside, about 15-20 minutes.
While the cutlets bake, heat olive oil in a frying pan. Add leeks and mushrooms with a little salt and sauté on low till mushrooms are browned.
Add the remaining Maille Traditional Dijon Originale Mustard and mix through. Add cream and stock and gently heat to soft boil. Lower heat to simmer. Place the vegetable cutlets in the pan, in one layer. Cover and cook for five more minutes.
Serve with squeeze of lemon, chopped parsley or green onions.
---