Savory Dijon Waffles with Creamy Dill Sauce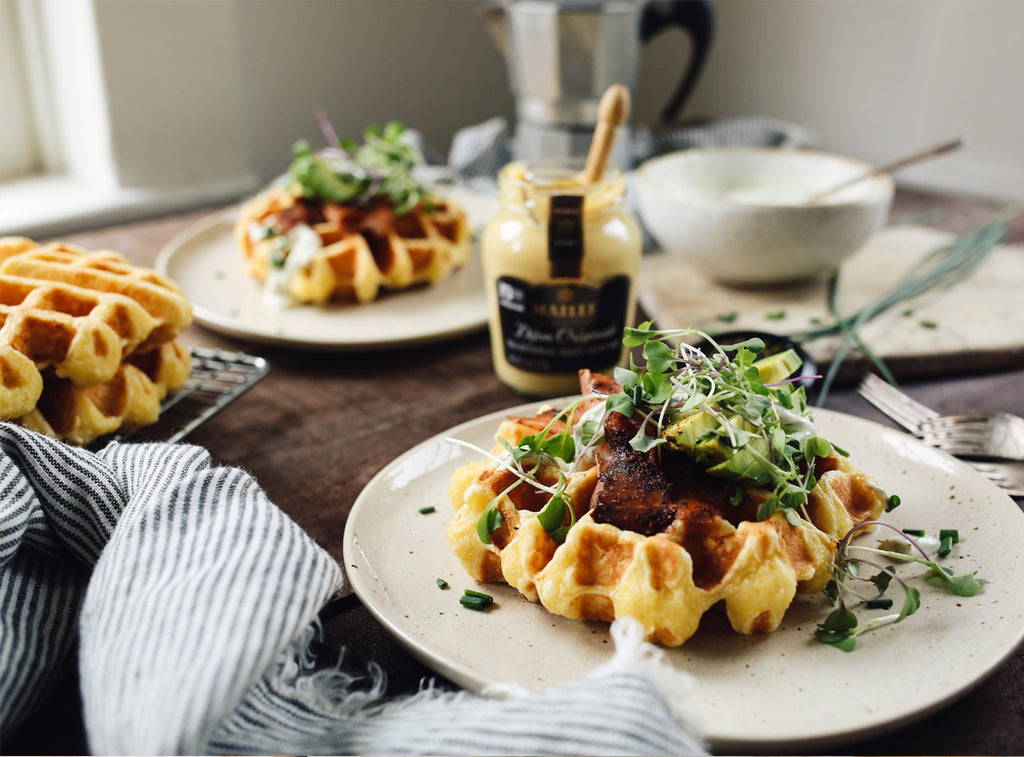 Yields: 6 waffles
Prep time: 12 minutes
Cook-time: 30 minutes
Ingredients
WAFFLES
6 tablespoons unsalted butter, melted and cooled to room temperature
1 ¾ cup buttermilk
2 teaspoons Maille Dijon Originale
2 eggs, yolks and whites separated
2 cups all-purpose flour
1/4 cup fine cornmeal
1/4 teaspoon baking soda
2 teaspoons baking powder
3/4 teaspoons sea salt
1/4 teaspoon fresh ground black pepper
1/4 teaspoon onion powder
SAUCE
1/4 cup sour cream
2 tablespoons creme fraiche
1 tablespoon Maille Dijon Originale
1/3 cup finely chopped fresh dill
1/4 teaspoon fresh ground black pepper
Pinch of sea salt
Juice of 1small lemon
TO SERVE
Smoked salmon
Avocado, sliced
Micro greens or sprouts
Chives, chopped
Preparation
In a medium-sized bowl, whisk together the butter, buttermilk, Maille Dijon Originale and the egg yolks until well combined.
In the bowl of the stand mixer, beat the egg whites until stiff peaks form, about 2 minutes.
In a separate large bowl, whisk together all of the dry ingredients. Then gently stir in the buttermilk mixture before very carefully folding in the egg whites with a few strokes (about 12-14). The mixture won't be fully combined and you should still see bits of the egg whites.
Preheat your waffle maker, then spray with cooking spray. Use about ¾ cup of batter per waffle and cook the waffles according to the manufacturer's directions.

To make the sauce

in a small bowl stir together the sour cream, creme fraiche, Maille Dijon Originale , dill, pepper, salt and lemon juice. The sauce can be used immediately or made up to 24 hours in advance and stored in an airtight container in the refrigerator.

To serve the waffles

top with smoked salmon, sliced avocado, greens, chives and finish with a drizzle of the creamy dill sauce.
NOTES
If you don't have buttermilk, you can use 1 ¾ cup milk mixed with 1 tablespoon of apple cider vinegar. Just stir to combine and let the mixture sit for 2-3 minutes before using it.
The cornmeal helps to make the waffles extra crispy, but if you don't have it, simply use an additional ¼ cup of flour.
For the dill sauce, if you don't have sour cream, you can use Greek yogurt, and if you don't have creme fraiche, you can just omit it and use an additional 2 tablespoons of sour cream or Greek yogurt.
Instead of smoked salmon, you can use bacon or ham. You can also add on a poached egg.
---