Savory Roasted Cauliflower and Walnut Tacos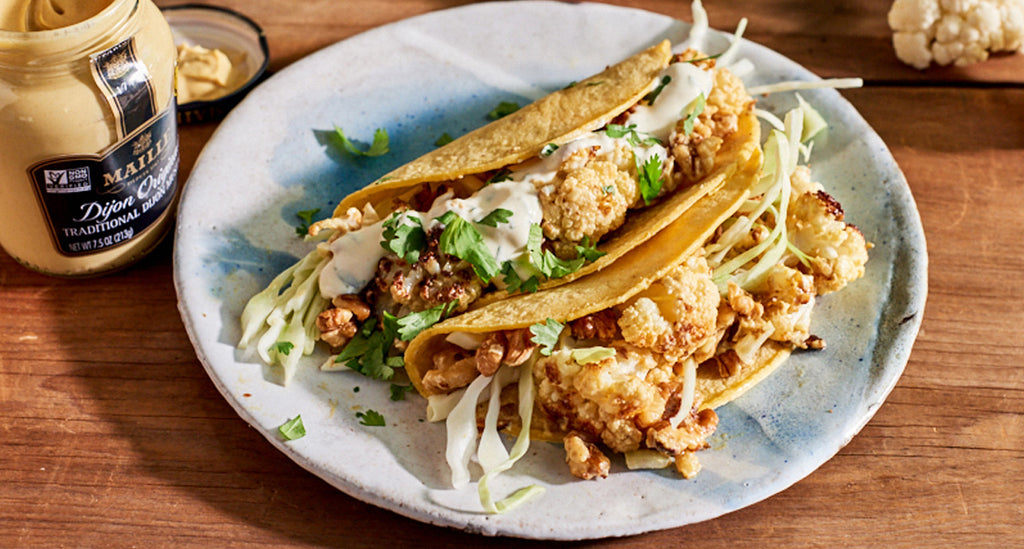 Recipe by: Jen May
Prep Time: 15 minutes
Cook Time: 30 minutes
Servings: 6
Ingredients
1 small onion, chopped
½ cup PLUS 2 tbsp. Maille® Dijon Originale mustard, divided
1 tbsp. olive oil
1 large clove garlic, finely chopped
½ cup sour cream or plain yogurt
¼ cup chopped fresh cilantro
1 tsp. fresh lemon juice
1 cup toasted walnuts, chopped
12 corn tortillas, warmed
Preparation
Preheat oven to 450°. Toss cauliflower, onion, 2 tbsp. Maille® Dijon Originale mustard, olive oil and garlic in large bowl.
Spray rimmed baking sheet with no-stick cooking spray, then spread cauliflower mixture in an even layer. Roast 25 minutes or until lightly browned and tender.
Mix remaining ½ cup mustard, sour cream and cilantro in medium bowl. Remove ½ cup; stir in lemon juice and reserve for serving. Toss roasted cauliflower and walnuts with remaining mustard mixture and serve in warmed tortillas with shredded cabbage or lettuce. Top with reserved sour cream mixture and, if desired, chopped avocado.

Tip: In a hurry? Use bagged cauliflower florets instead.
---