Savoury Baklava recipe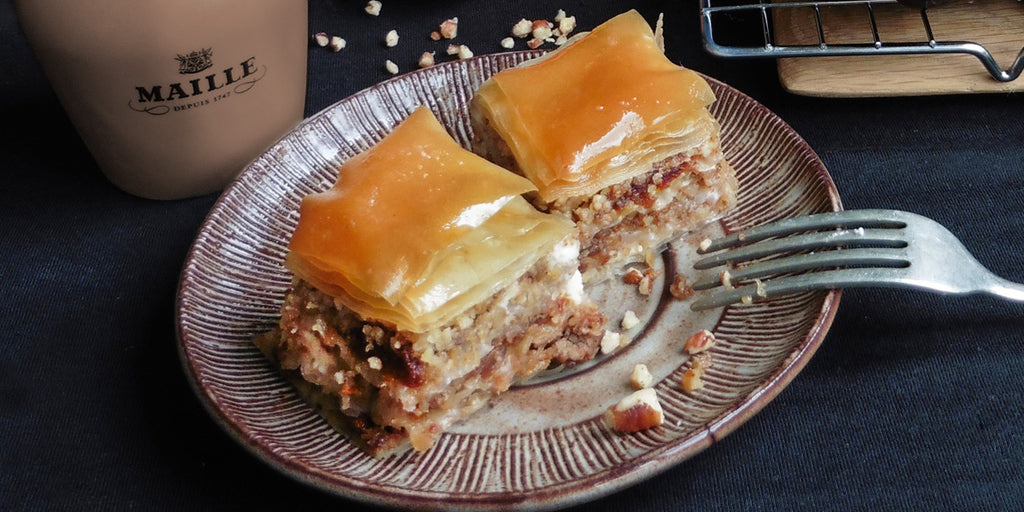 Ingredients
For The Syrup:
1.7oz caster sugar
3oz honey
¼ a cup of water
Zest of one whole orange
Preparation
Preheat the oven to 300°F / Gas 6. Brush the base of a 10-12in square cake tin generously with melted butter. Cut the pastry to the exact size of your dish.

Prepare the filling:

Mix the Maille Honey Dijon Mustard with the sundried tomatoes, feta and walnuts.

Assemble the baklava:

Line 6 sheets of filo pastry whilst gently brushing each with the Maille hazelnut oil as you go.
Spread part of the filling evenly on the base, then place two filo pastry sheets, one at a time, brushing each with hazelnut oil. Add another layer of filling and repeat with another 2 filo pastry sheets and filling. Take the last sheets of filo pastry, and place carefully on top to seal the baklava again one sheet at a time brushed with Maille hazelnut oil.
With a sharp knife carve the baklava gently into squares, triangles or diamonds and bake in the oven until golden brown and allow to cool.
Place a small saucepan over a medium-high heat and dissolve the caster sugar, honey, water and orange zest. Stir well and when the syrup begins to boil remove from the heat, pour the syrup over the baklava and set it aside for a few minutes before serving.
---