Sesame Snaps with Spiced Orange and Sauternes White Wine Vinegar Dip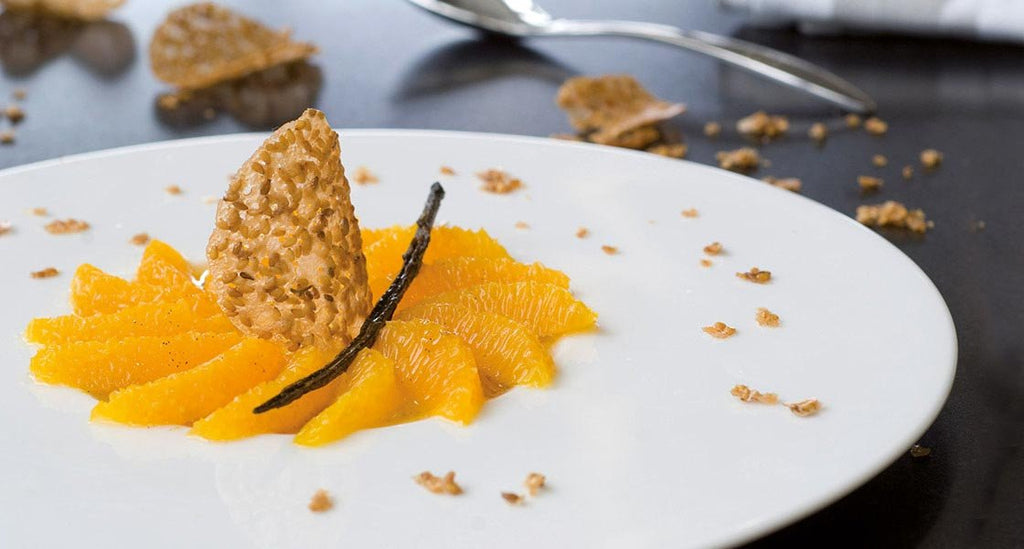 Course: Dessert
Occasion:dinner parties, bbq
Serves: 4 people
Prep Time: 20 minutes
Cooking Time: 10 minutes
Total Time: 30 minutes
Ingredients
8 oranges
100ml water
20g sugar
1 vanilla pod, split and seeds scraped out
1tsp ginger powder
15g flour
15g sesame seeds
20ml orange juice or water
15g butter, melted
60g icing sugar
Preparation
Preheat the oven to 200°C (Gas mark 6-7).
Peel and segment the oranges, completely removing all the white pith and saving the juice.
Boil water in a saucepan, add orange juice, sugar and vanilla seeds.
Remove from the heat and add Maille White Balsamic Vinegar and ginger powder.
In a bowl mix together the flour, sesame seeds, orange juice or water, melted butter and icing sugar on a slow setting (avoid getting air into the dough).
On a baking tray place spoonful of the dough mix spaced apart to allow for spreading.
Then bake at 200°C for 3-5 minutes, watching carefully because they tend to colour quickly.
Remove from the oven and leave to stand for a few minutes to allow them to harden, then mold into the desired shape.
In a small glass or shallow dish, arrange the orange segments and the syrup and garnish with the sesame snaps.
---