Shortcake with Maille Honey Dijon Mustard Macerated Strawberries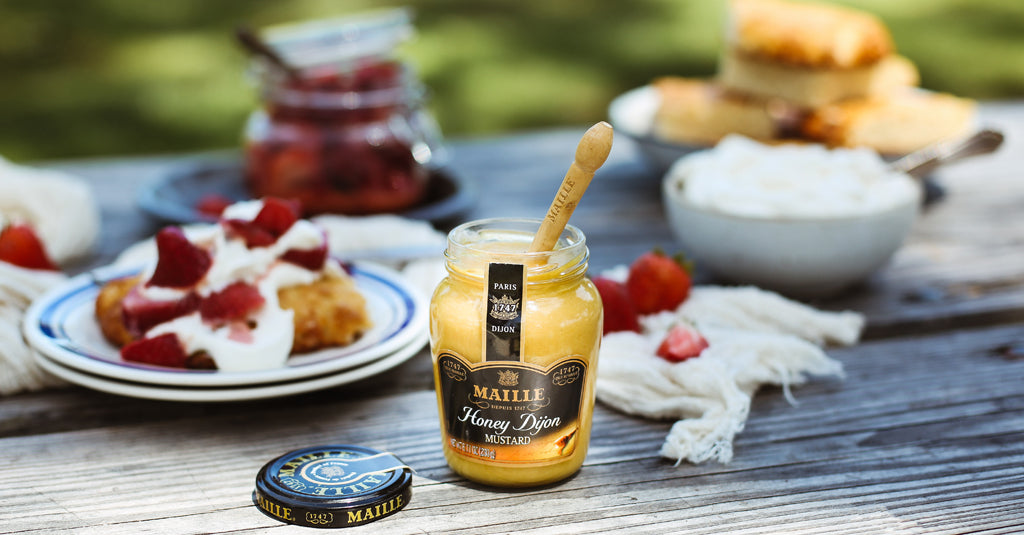 Recipe by: Runway Chef
Prep Time: 15 minutes
Cook Time: 12-15 minutes
Servings: 8
Ingredients
Ingredients for the strawberries:
Ingredients for the shortcake:
2 ½ cups flour
5 tsps. baking powder
½ tsp. Salt
6 ½ tsps granulated sugar
12 tbsps. cold unsalted butter, cut into cubes
1 ½ cups milk
1 tbsp heavy cream
Ingredients for the cream:
2 cups cream
1 tbsp. granulated sugar or honey
1 tsp. vanilla
Preparation
Directions for the strawberries:
In a large bowl, toss together the strawberries, Maille Honey Dijon Mustard and honey. Allow the berries to sit for 15-20 minutes to release some of their juices, then cover and store in the refrigerator until ready to serve. These can be made 24 hours in advance.
Directions for the shortcake:
Preheat the oven to 425 degrees. Line a baking sheet with parchment paper or a Silpat mat and set aside.
In a large bowl, combine the flour, baking powder, salt, 6 tbsps. Of sugar and butter. Use your hands to work the butter into the dry ingredients until the mixture resembles coarse crumbs. Alternatively, you can do this step in a food processor, pulsing the mixture 15-20 times, before transferring it to a large bowl.
Gradually stir in the milk, just until combined, being sure not to overwork the dough (as an FYI, the dough will be pretty sticky).
Spread the dough into a rectangle, about 1 ½ " thick, onto the prepared baking sheet. Brush with heavy cream and sprinkle with the remaining ½ tbsp of sugar. Bake for 12-15 minutes, or just until the edges begin to get crispy and the top turns golden brown. Remove and set aside to cool. Slice into squares just before assembling.
Directions for the cream:
Using either a hand mixer, or a stand mixer with the whisk attachment, beat the cream on medium speed until soft peaks form, about 2 minutes. Add the sugar (or honey) and vanilla, and continue beating just until combined, making sure not to over-mix the cream. Keep covered and chilled until ready to serve. This can be made 24 hours in advance.
Directions for serving:
Place a piece of shortcake on a plate. Top with a generous serving of berries and a large dollop of cream. Enjoy!
---