Skillet Steak with Spring Vegetables & Mint-Mustard Sauce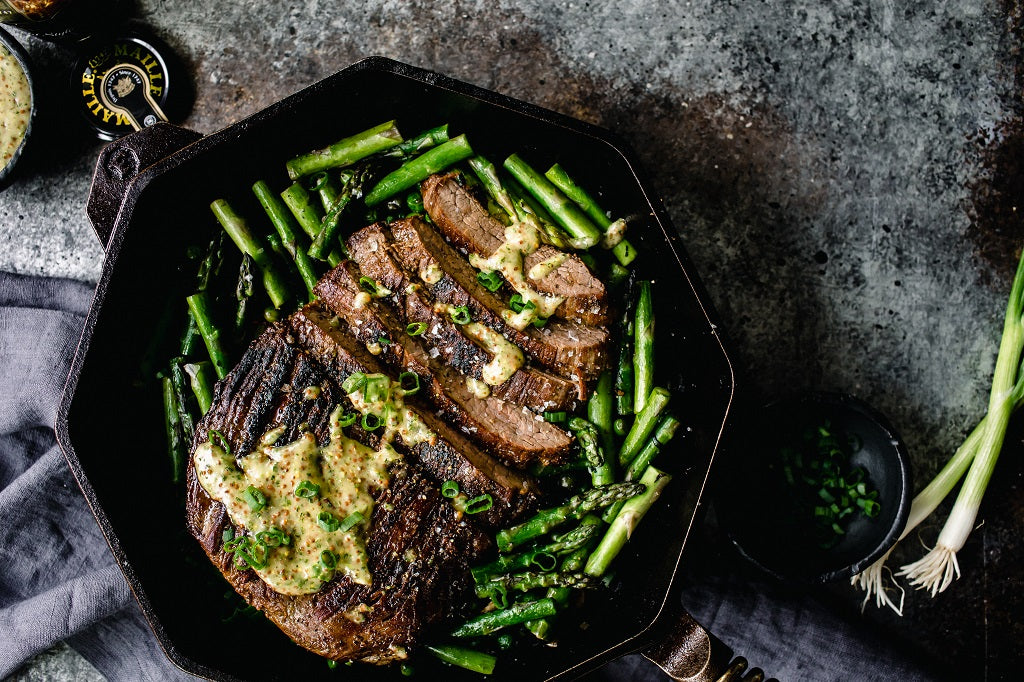 Recipe created by: Plantings and Pairings
Servings: 3
Ingredients
Mint Mustard Sauce Ingredients:
Olive Oil
Garlic
Mint
Red Wine Vinegar
Honey
Steak, Bacon and Vegetables:
1 pound flank steak
3 slices bacon chopped
3 cloves garlic thinly sliced
1 bunch asparagus trimmed, cut into 1-inch pieces
1 10-ounce scallions thinly sliced, divided
Kosher salt and pepper to taste
Preparation
Remove steak from refrigerator and set aside for 30 minutes to allow it to come to room temperature.
While the steak comes to room temperature you can assemble the mint mustard sauce.
Place smashed garlic cloves and olive oil in a small saucepan over medium heat. Allow to heat for 5 minutes, until oil is fragrant.
Brush both sides of the steak with some of the garlic oil and season with salt and pepper, reserve the remaining oil for the mint mustard sauce.
To make the mint mustard sauce, add Maille Old Style Mustard, vinegar and honey to a food processor or blender. Turn it on and stream in the remaining oil and the garlic cloves. To this mixture, add your mint and process until finely chopped. Season with salt, and pepper, to taste.
Next, preheat a cast iron skillet to medium-high heat. Add the chopped bacon and cook for about five minutes until crispy. Drain all but 1 tablespoon bacon fat from the skillet.
In the same skillet as the bacon, add the steak cook turning every 2 minutes or until medium rare, about 10 minutes. Remove the steak from the skillet and place on a cutting board to rest before slicing.
Add the sliced garlic and all but 2 tablespoons of scallions and cook until softened, 2-3 minutes. Add peas with a splash of water and cook until the peas are tender, about 3 minutes. Add asparagus and season with salt and pepper. Cook until asparagus is tender, about 5 minutes. Remove skillet from heat.
Slice the steak and place it over the vegetables in the skillet. Drizzle with mint mustard sauce and spring remaining scallions.
---