Sliders with Dijon Aioli & Cornichon Garnish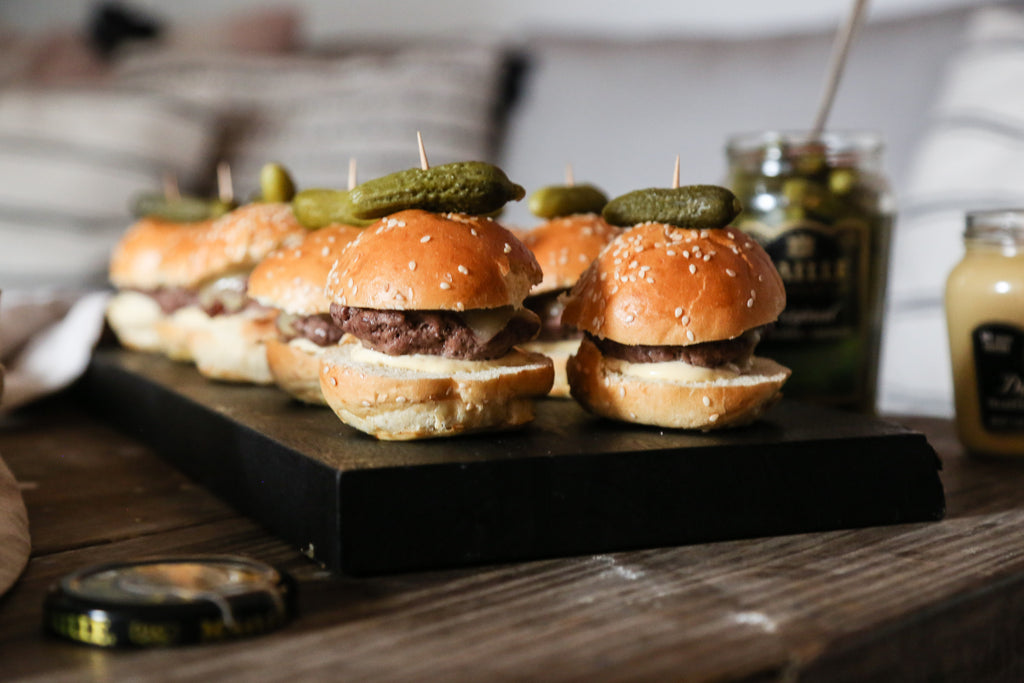 Recipe created by: Runway Chef
Makes: 15
Ingredients
For the patties:
2 pounds ground beef
1 tablespoon Worcestershire sauce
1 teaspoon salt
1 teaspoon pepper
4 ounces cheddar cheese, cut into 15 small slices
For the aioli:
For serving:
Preparation
Preheat oven to 400 degrees. Line a baking sheet with foil or parchment paper (or coat with cooking spray) and set aside.
In a large bowl, add the ground beef, salt, pepper and Worcestershire sauce and use your hands to mix the ingredients together.
To form a burger patty, measure out a heaping tablespoon of meat. Roll into a ball before using your hands to gently press the mixture into a disc. Place on the prepared baking sheet, then repeat until all the meat is used up. Bake for 6-8 minutes. Remove from the oven and add cheese slices (if desired) before baking another 2-4 minutes, or just until the cheese is melted.
While the meat is baking, in a separate small bowl, whisk together the mayonnaise and Maille Dijon Originale. Set aside.
To assemble the sliders, spread each bun generously with Dijon aioli before topping with the burger patties. Garnish with Maille Originale Cornichons and enjoy.
---