Smoked Salmon Roulade, with Cream Cheese
and Maille Mini Cornichons Classique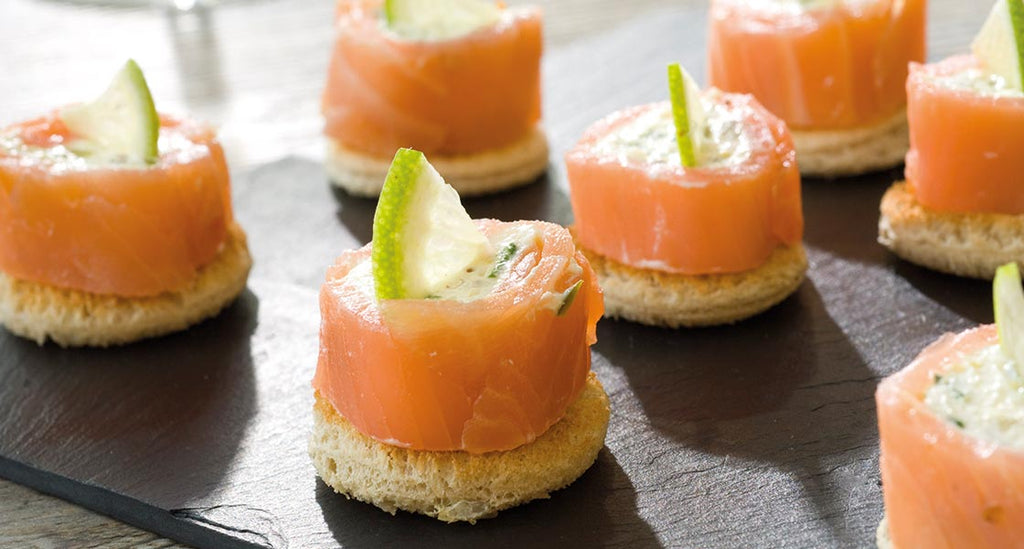 The savoury crunch of Maille's Sundried Tomato Cornichons in this recipe lifts the cream cheese and adds texture. If you have time, prepare the salmon roulade the day before serving, to give it time to set.
Ingredients
250g sliced smoked salmon
200g cream cheese
About 12 leaves of basil, finely cut
Salt and pepper
1 tbsp Maille Old Style mustard
50g soft butter
5 slices of wholemeal bread
One lemon
Preparation
Drain the Maille Mini Cornichons Classique, pat them dry and finely slice.
In a mixing bowl, mix the butter and cream cheese with a fork.
Add the Maille Mini Cornichons Classique and basil, season with salt and pepper, and finish with Maille Old Style mustard. Try not to over mix.
On a work surface, place a 40cm piece of cling film in front of you and lay the salmon on top, slightly overlapping each slice to form a rectangle of 20cm by 30cm.
Spread the cheese mixture over the salmon, then roll it tightly to form a "sausage" shape. Wrap securely with the cling film and place in the fridge (or freezer if you need it quickly).
Toast the sliced bread, then cut each slide into 4 discs with a round pastry cutter, or free hand with a sharp knife.
Serve the sliced salmon roulade salmon on the toast, and garnish with a lemon wedge.
---