Snap Pea & Gem Lettuce Herb Salad with Lemon-Dijon Parmesan Dressing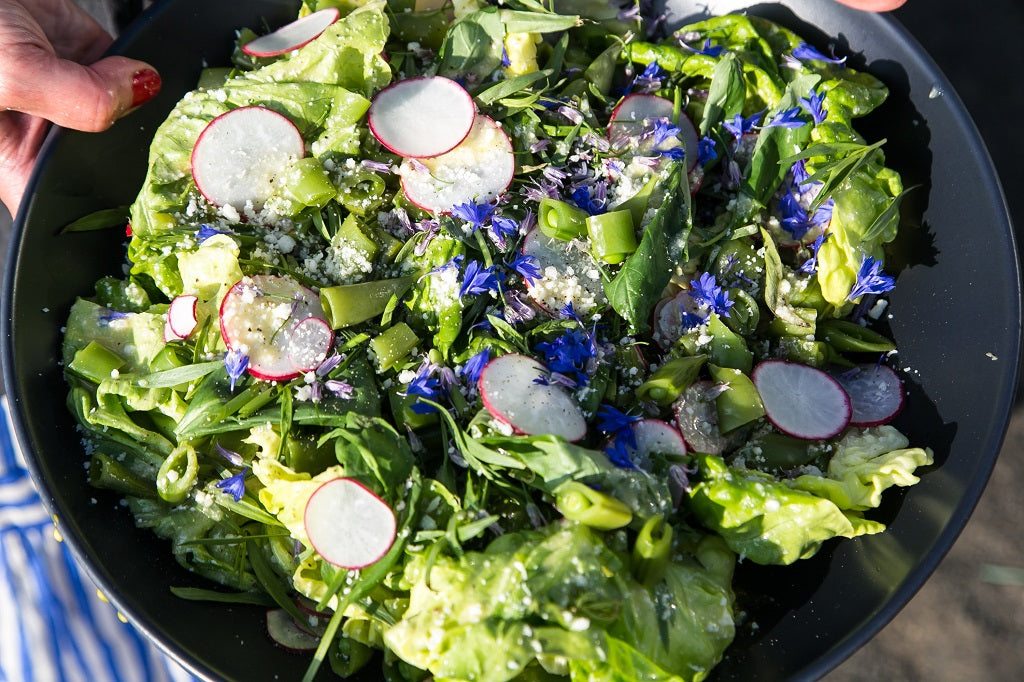 Recipe by: Eyeswoon 
Serves 2-4
Ingredients
Ingredients for Lemon-Pecorino Vinaigrette 
⅔ Cup grated pecorino-romano cheese, plus more for serving
⅓ cup champagne vinegar
⅓ cup fresh lemon juice
1 ½ -2 tbsp Maille Traditional Dijon Originale Mustard
1 clove garlic, minced or grated
2 tsps kosher salt
Freshly cracked pepper, plus more for serving
1 ½ cups extra- virgin olive oil 
Ingredients for salad
2 cups snap peas, blanched and shocked
3 heads gem or young lettuces
1 bunch radishes, very thinly sliced on a mandolin
¼ cup mixed herbs- basil, tarragon, chives
Preparation
For the Lemon-Pecorino Vinaigrette
 In a mini food processor add all ingredients.
Pulse all of the ingredients together until they're well combined and the dressing has emulsified.
If you're not using a food processor, whisk all ingredients together and further emulsify by shaking in a mason jar.


Directions for salad
Slice your blanched and shocked snap peas on a bias and place in a medium size bowl.
Pull apart the leaves of the gem lettuce and combine with the snap peas in the bowl.
Drizzle the parmesan lemon dressing and toss to coat.
Finish with flaky and sea salt, a sliced radish and mixed fresh herbs. Shave with extra percorinoi to serve.
---