Spiced Duck & Pineapple Canapés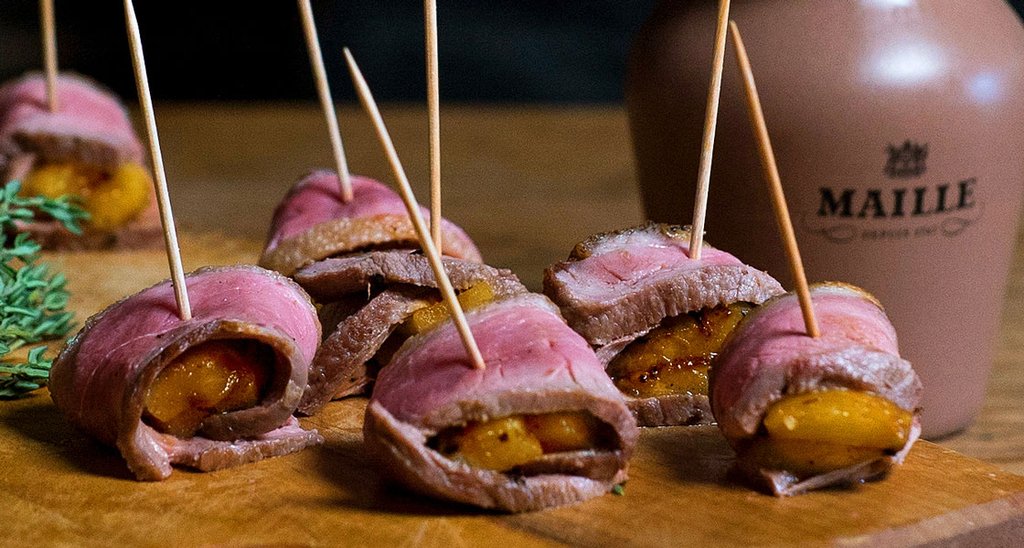 Ingredients
2 small duck breasts
1/2 tsp of cinnamon
1/2 tsp of ground cloves
1 tin of pineapple
1 glass of Champagne
2 tbsp of olive oil
2 tbsp Maille Honey Dijon Mustard
Salt, pepper to taste
Preparation
Pre-heat the oven to 200° C (400° F)

Season the duck breasts with salt and pepper and add to an oiled and heated oven-proof pan. Sear on each side until golden-brown.

Smear the duck breasts with the Maille Honey Dijon Mustard. Add the Champagne and place in a pre-heated oven for 10 minutes. In the meantime, grill the pineapple in a hot non-stick pan until glazed on each side. Cut in wedges and set aside to assemble with the duck.

Remove the duck from the oven, allow to rest for 5 minutes, then thinly slice the duck breasts.

Assemble by placing a wedge of pineapple of the duck slice, roll the slice and secure with a skewer.
Maille Tip
Juicy duck breast strips with pineapple, spices and Maille Honey Dijon Mustard, make this recipe the perfect party food to share.
---