Spicy Asian Mustard Glazed Turkey Legs and Roasted Bok Choy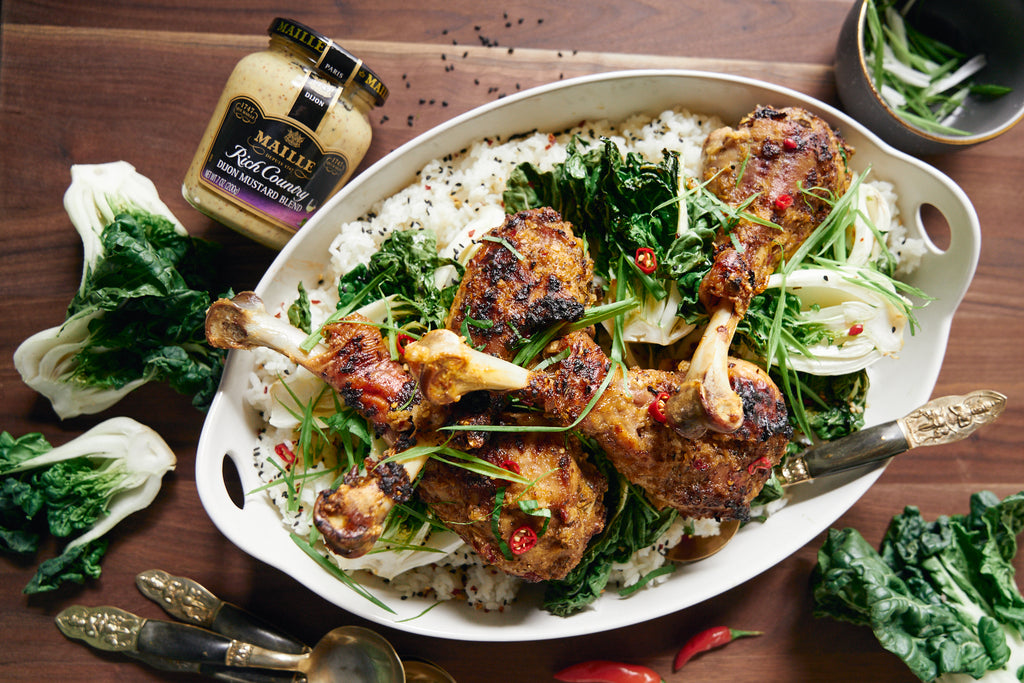 Recipe created by: Carlene Thomas
Serves: 4
prep time: 8 hours (brine)
cook time: 1.5 hours
Ingredients
Roasted Turkey Legs
Brine
1¼ Tablespoon kosher salt
3 Cups Water
2 Bay leaves
2 Garlic Cloves, crushed
20 Coriander Seeds
20 Fennel Seeds
2 Star Anise
Glaze
1½ Tablespoons Low Sodium Soy Sauce
¼ cup Butter, melted
¼ cup + 1 Tbsp Canola Oil (divided)
1½ Tablespoon Maille Rich Country Mustard
1 teaspoon sliced lemongrass
1 teaspoon dry basil
1 thai chili (minced)
2 teaspoons grated ginger
1 Tablespoon brown sugar

½ 

 medium white onion rough chopped


Bok Choy
½ pound baby bok choy
2 Tablespoons extra virgin olive oil
¼ teaspoon kosher salt
1 teaspoon minced garlic
1 teaspoon low sodium soy sauce
1 teaspoon clover honey

4 cups white rice
Preparation
Add brine ingredients to a large bowl or container. Add turkey legs and brine overnight or about 8 hours.
In a bowl add melted butter, canola oil, soy sauce, lemongrass, dry basil, Thai chili, ginger, and brown sugar. In a food processor, add half an onion, 1 T canola oil, and Maille Rich Country Mustard into a food processor until a finely chopped paste develops (5-10 sec). Add to bowl with soy sauce and lemon grass. Stir combine.
In an oven at 350 F in a roasted pan with rack. Add the turkey legs, removed from the brine, and bake for 25 minutes. Brush glaze and continue to add glaze every 15 minutes and continue to bake for a total of 1 hour and 30 minutes. Use a thermometer to ensure an internal temperature of 165 F.
While the turkey is cooking, make rice of choice (be it in a rice cooker, or microwaved). Prepare baby bok choy by cutting in half lengthwise and washing. Shake dry.
In a small bowl combine dressing ingredients for bok choy. Dip each bok choy into the dressing and place cut side up on a baking sheet. Roast at 427 for about 10 minutes or until bok choy can be pierced with a fork in the white stem area.
To serve, place rice as a base in a large serving dish. Top with bok choy and sesame seeds. Add turkey legs on top and garnish with chilis and green onion. Serve immediately. 
For Garnish
Thai Chilis, Green Onion, Black Sesame Seeds
---