Spicy Kale Caesar with Anchovy-Citrus Vinaigrette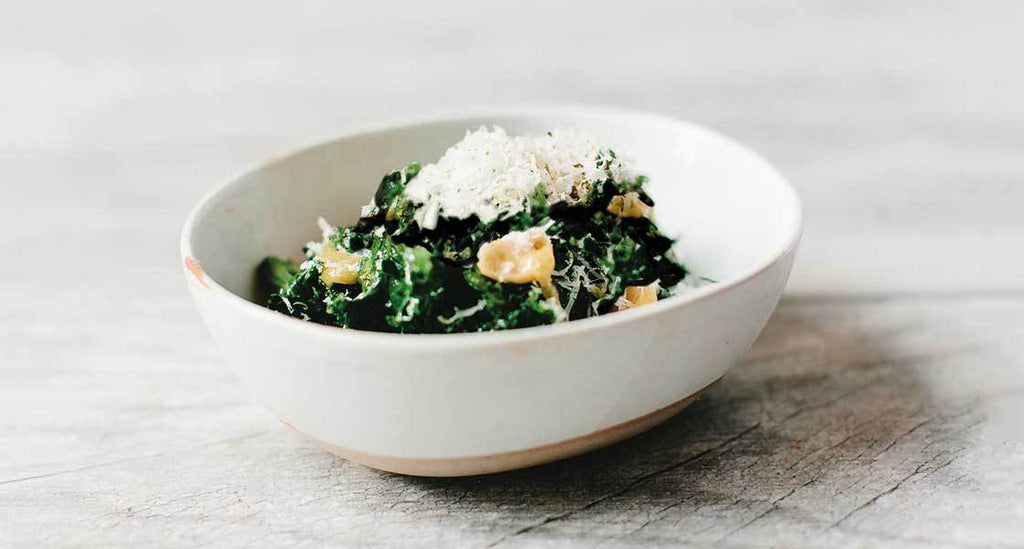 Ingredients
2 packed cups, minced black kale

1/4 avocado, diced into 1/2" pieces

1/4 Serrano chile, thinly sliced on the bias

6 sun gold tomatoes, cut in half

Dill, basil, and mint

Parmesan, microplaned

1 oz Anchovy-citrus vinaigrette
For the anchovy-citrus vinaigrette:
2 anchovy fillets

1/2 clove garlic

1 tsp Dijon Original mustard
1 tsp honey

1/3 cup white wine vinegar
2/3 cup extra virgin olive oil
Salt and pepper to taste
Preparation
For the salad: Combine all ingredients except Parmesan and vinaigrette. Season with salt and pepper, then toss with the vinaigrette and plate in an oval bowl. Finish with generous grating of Parmesan.
For the vinaigrette: Combine all ingredients except extra virgin olive oil in blender. Process until smooth then drizzle in olive oil.
---