Spinach Soup with Salmon and Dill and Lime Mustard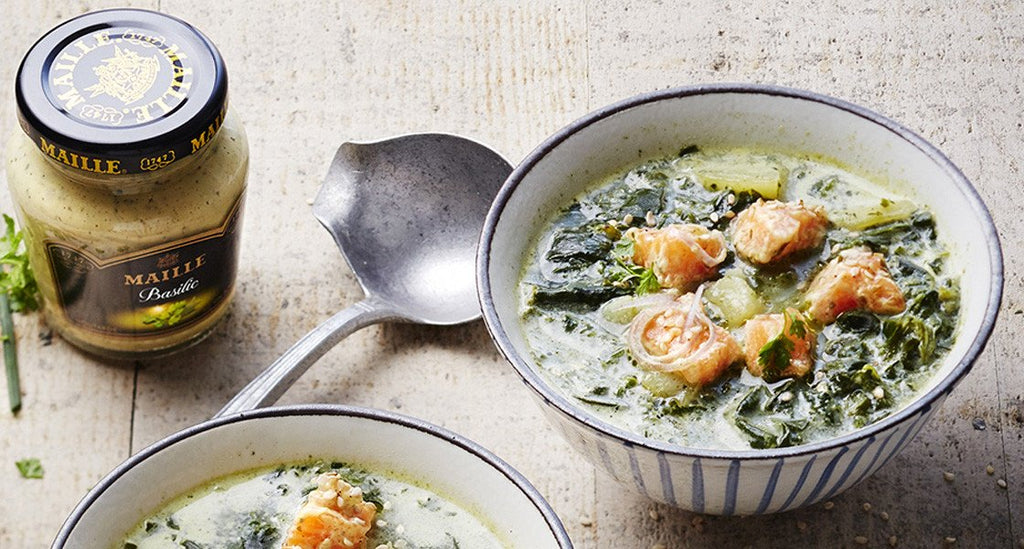 Create light and tasty recipes with just one magic spoon of Maille mustard.
serves: 2
Ingredients:
1 small shallot
1 garlic clove
2 small potatoes
500g spinach
2 salmon fillets 
2 tbsp of single cream
1 lt vegetable bouilllon
toasted sesame seeds
Method:
Peel and chop the potatoes into small cubes.
Steam the salmon fillets
Sauté the spinach with the onion and minced garlic.
Add the potato cubes and cover with vegetable bouillon.
Cook 15 to 20 minutes, then add the cream while stirring.
Chop the salmon into small cubes. Mix with the chopped shallot, Maille Dill and Lime Mustard, and a drizzle of Olive Oil.
Place the salmon cubes over the soup and sprinkle with toasted sesame seeds.
---