Spring Berry Galette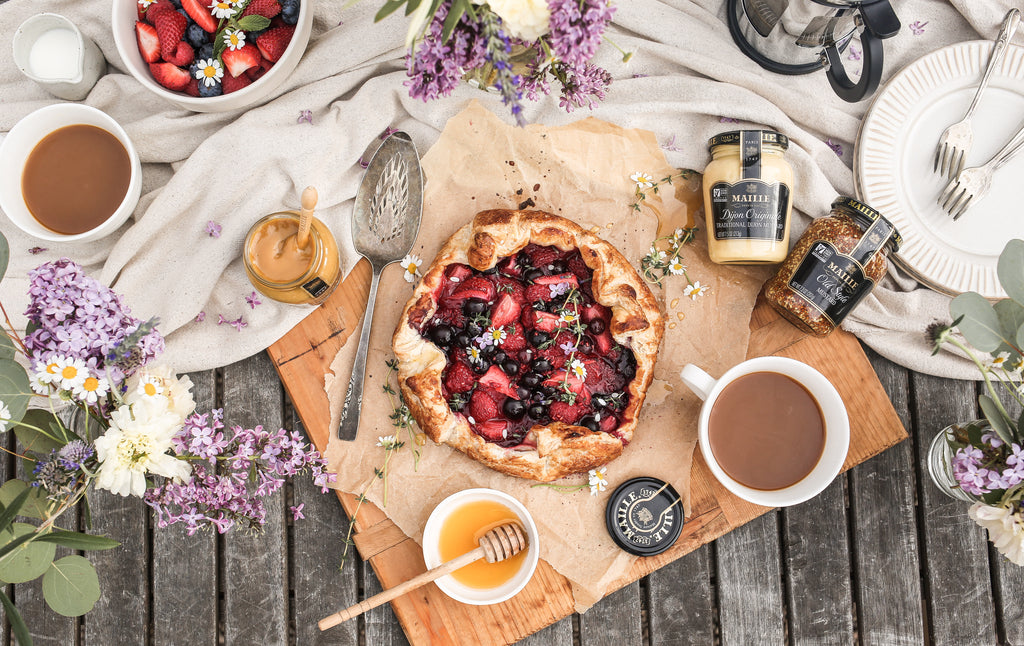 Prep Time: 10 minutes
Cook Time: 25-30 min
Servings: 6
By:
Alyssa Ponticello 
Ingredients
3 cups fresh spring berries of your choice (see notes)
1 tablespoon lemon juice
1 ½ tablespoons cornstarch or all-purpose flour
2 tablespoons honey
1 sheet puff pastry
Optional: a beaten egg, cream or milk as a wash for the pastry
Vanilla ice-cream or fresh whipped cream, to serve
Preparation
Preheat the oven to 400 degrees. Line a large baking sheet with parchment paper or a silpat mat and set aside.
In a large bowl, stir together Maille Honey Dijon Mustard, lemon juice, cornstarch, and honey until well combined. Add the fruit and gently toss until all of the berries are evenly coated.
Lay the puff pastry dough out on the prepared baking sheet, being sure to press together any cracks or breaks. Pile the berry mixture into the center, leaving about 2" of dough around the edge. Fold the pastry up and in over the berries. Brush the dough with the optional egg, cream or milk wash.
Bake for 25-30 minutes, or until the pastry is golden brown and the berries are bubbling.
Allow to cool slightly. Serve topped with ice-cream or whipped cream.
---