Spring Goddess Sandwich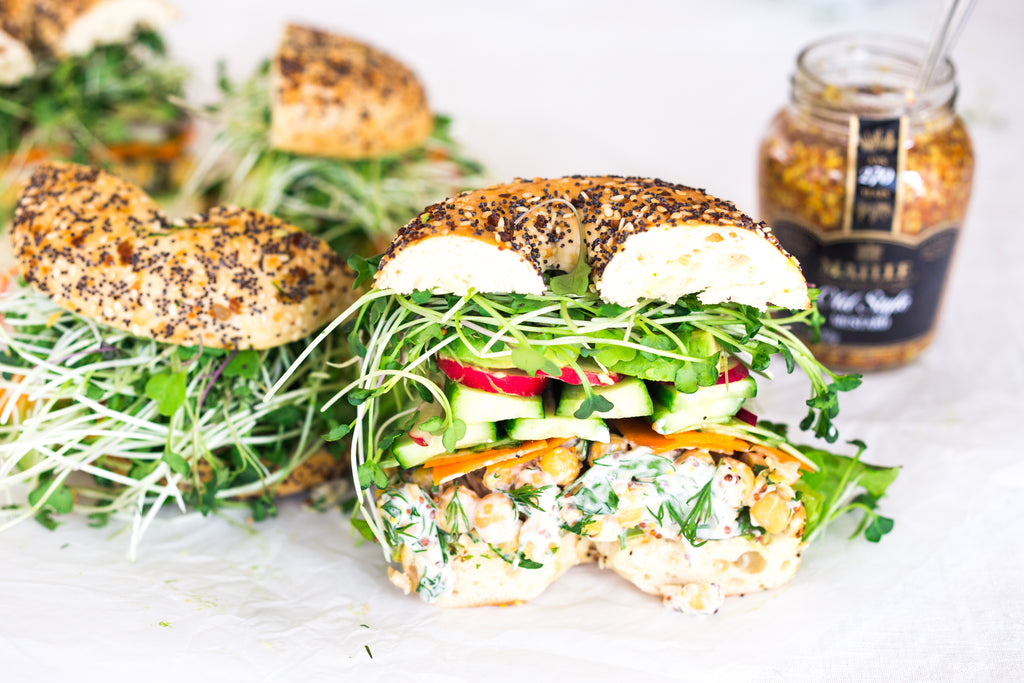 Recipe from: Feasting at Home
A hearty vegan sandwich full of fresh spring veggies and tasty chickpea salad.
Fresh herbs and flavorful Maille Mustard give these a delicious burst of flavor!
Makes: 2 sandwiches
Preparation time: 20 minutes
Ingredients
1 batch Chickpea Salad ( see below)
4 slices whole grain bread or 2 bagels
1 tablespoon Maille Dijon Originale Mustard
2 large lettuce leaves ( red leaf, green leaf or romaine)
1 Turkish cucumber, thinly sliced
1 carrot, thinly sliced ( use a vegetable peeler)
4 radishes, thinly sliced
1 avocado sliced
big handful of sprouts- alfalfa, sunflower or daikon 
Chickpea Salad
1 can chickpeas, rinsed and drained
1/4 cup chopped Italian parsley
1/8 cup chopped dill (or sub fresh tarragon)
2 tablespoons Maille whole grain mustard
1-2 tablespoons Hellmann's Vegan Mayo
generous pinch salt
Preparation
Make the chickpea salad, placing all ingredients in a medium bowl, mix and smash with a fork until well combined.
Assemble the sandwiches. Spread a little Maille whole grain mustard on the bread.
Top with lettuce and a generous amount of the chickpea salad.
Layer sliced cucumber, carrots, radishes and avocado.
Top with a mound of sprouts and bread.
Cut in half and enjoy!
---