Spring Root Vegetable Hash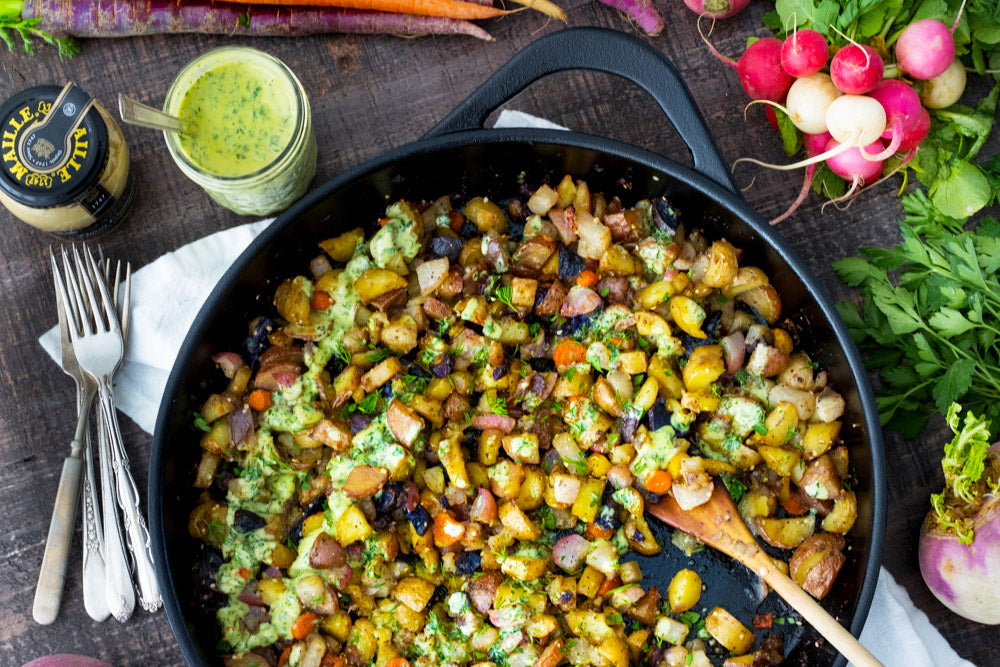 Recipe created by: Eating by Elaine
Serves: 8-10
Ingredients
For the hash:
6 tbsp extra virgin olive oil
2 shallots, peeled and diced
1 large garlic clove, minced
1 tsp fine salt
1/2 tsp ground black pepper
1.5 pounds baby Dutch yellow potatoes or Fingerling potatoes, diced into small bite-sized pieces
4 large rainbow or regular carrots, peeled and diced
1 turnip, peeled and diced
10-12 ounces radishes (I used Easter egg radishes), diced
1/4 cup hemp seeds (optional)
For the creamy herb sauce:
½ cup extra virgin olive oil
¼ cup runny tahini
1 cup fresh dill, large stems removed (save some for garnish)
1 cup fresh Italian flat leaf parsley, large stems removed (save some for garnish)
1 tbsp maple syrup
½ tsp salt
1/4 cup filtered water 
Preparation
For the hash:
Preheat oven to 425 degrees Fahrenheit and prep your veggies.
Heat the oil in a 2-quart cast-iron skillet over medium heat. Once the oil is hot add the shallots, garlic, salt and pepper and sauté for 2-3 minutes until the shallots are translucent.
Add the potatoes, carrots, turnip and radishes and sauté over medium heat for 20 minutes until the potatoes start to soften.
Add hemp seeds if using. Stir frequently throughout the cooking process and ensure the veggies get evenly coated with the oil.
Transfer the skillet to the oven and roast at 425 degrees Fahrenheit uncovered for 30 minutes.
Broil at 500 degrees Fahrenheit for the last 2-3 minutes for a golden brown crispy sear. 
For the creamy herb sauce:
While the hash cooks in the oven, prepare your sauce.
Add all the sauce ingredients to a mini food processor (or blender) and puree until smooth and creamy. Set aside.
If making the sauce ahead of time, thin out with 1-2 tablespoons filtered water just before using as the sauce thickens as it sits overtime. 
For serving:
Garnish the skillet with chopped dill and parsley leaves.
Serve the hash hot out of the skillet or transfer to a serving dish.
Drizzle with the creamy herb sauce or serve on the side and allow your guests to drizzle their own portions. 
---