Spring Veggie Tart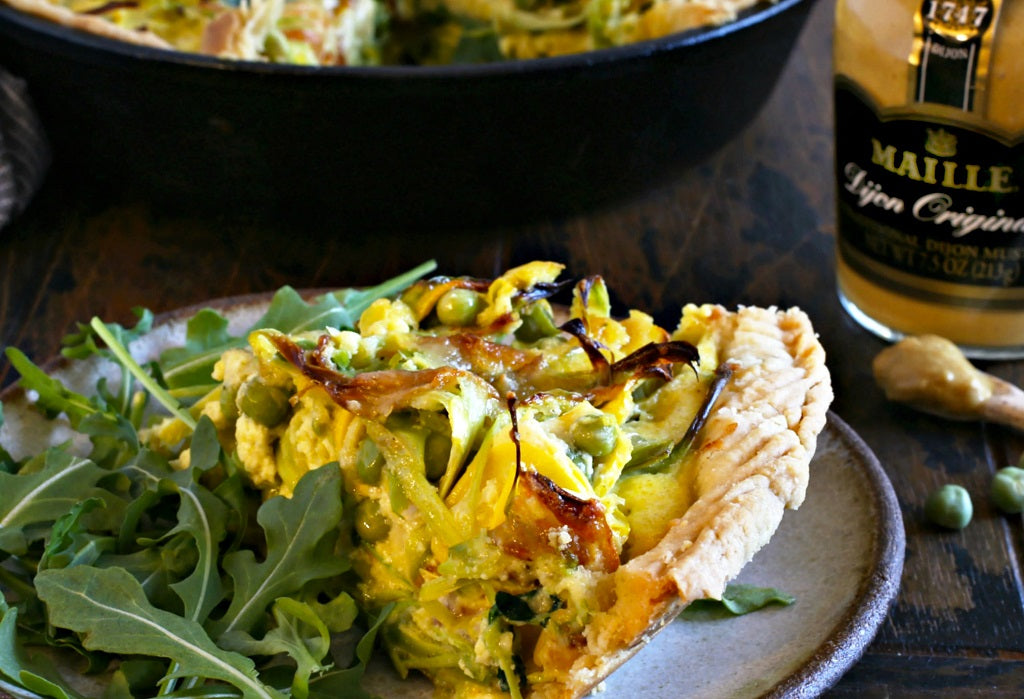 Recipe created by: Hungry Couple NYC 
Servings: 8
Ingredients
Crust:
1 1/2 Cups all-purpose flour
1/2 Tsp salt
1 Stick (8 tbsp) unsalted butter, chilled and cut into 1" pieces
1 Tbsp olive oil
1/4 Cup ice water

Filling:
3 Eggs
1/2 Cup heavy cream
1/4 Cup whole milk
1/4 Tsp salt
1/4 Tsp black pepper
1 Cup shredded fontina cheese
6 Stalks asparagus
1 Cup peas
1 Large yellow squash
Preparation
Add the flour, salt and butter to a food processor and pulse a few times until the mixture resembles coarse crumbs. Add the Maille Traditional Dijon Originale Mustard and olive oil and pulse a couple more times. Pour in the ice water and pulse until the mixture forms a dough ball. Cover with plastic wrap and refrigerate for at least one hour.
Pre-heat the oven to 350 degrees.
On a well floured surface, roll out the dough to an 10" round and place into an 8" cast iron skillet.
In a large bowl, whisk together the eggs, cream, milk, Maille Traditional Dijon Originale Mustard, salt and pepper. Stir in the shredded cheese and the peas.
Thinly slice the asparagus and squash. Alternatively, you can use a vegetable peeler to slice thin strips. Add to the egg mixture and pour into the prepared pan.
Bake for 50 to 55 minutes or until the mixture is set.


---