Steak and Caramelized Onion Sandwich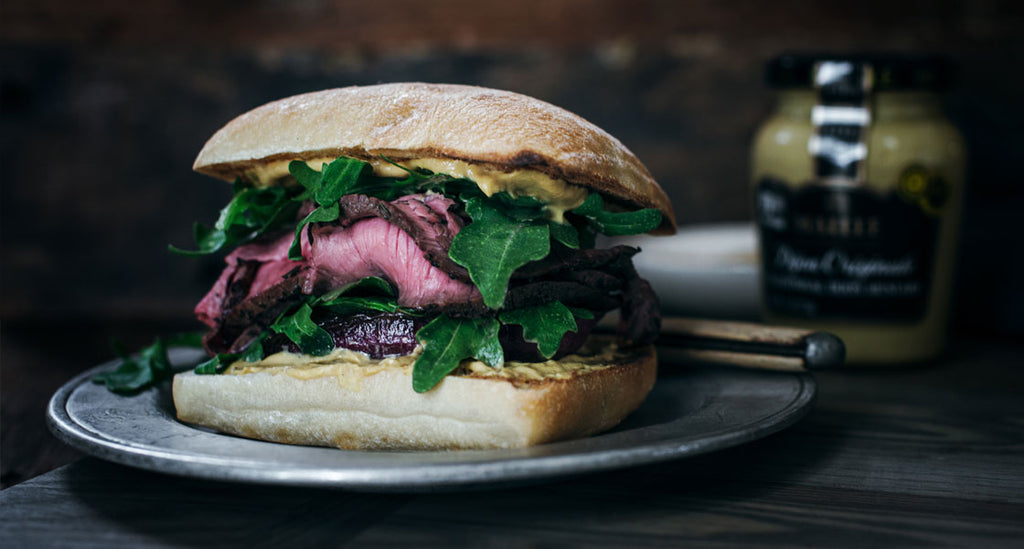 Recipe by: LittleFiggy
Cook Time: 30 minutes
Additional Time: 1 hour
Total time : 1 hour 35 minutes
Ingredients
2 - 3 pounds flank (London broil) or skirt steak
2 tablespoons olive oil
Salt and pepper to taste
2 - 3 sprigs fresh rosemary, chopped well or 2 teaspoons dried rosemary
2 tablespoons unsalted butter
2 tablespoons extra virgin olive oil
2 large onions, sliced into 1/4 inch thick slices
Salt and pepper to taste
6 bay leaves
1/4 cup balsamic or red wine vinegar
1 large ciabatta loaf or 4 - 6 individual ciabatta breads
Arugula or baby lettuce of choice
Preparation
1Rub the meat with the olive oil, chopped rosemary, salt and pepper, place on a foil-lined baking pan. Bring the meat to room temperature for at least 30 minutes or up 2 hours before cooking.
To caramelize the onions, in a large skillet over medium-high heat, add the olive oil and butter along with the bay leaves. Once the butter has melted add in the thick-sliced onions, season with salt and pepper, and cook for 3 - 5 minutes.
Pour the vinegar into the skillet and turn the heat to low and allow to cook with lid askew for about 20 - 25 minutes or until tender. (Do not turn onions, allow to only cook on one side).
Place the rack in the middle of the oven and preheat the oven to 450°F.
Roast the meat for about 8 - 9 minutes (about 3 minutes per pound), turn the heat off, leaving the meat in the oven without opening the oven door for 20 minutes for medium-rare or 25 minutes for medium.
Remove the meat from the oven, transfer to a cutting board, cover with foil and allow meat to rest at room temperature for 10 -15 minutes before slicing thinly.
Slice the Ciabatta lengthwise and toast in a dry skillet over medium heat until brown if desired.
Spread on Maille Dijon Originale to taste on toasted ciabatta.
Top with caramelized onion, sliced meat, and arugula.
Notes:
I used red onions in this recipe, but you can use yellow or white onions if preferred.
The caramelized onions can be stored in a sealed container in the refrigerator for up to 3 days.
The roasted meat can be stored covered in an airtight container in the refrigerator for up to 3 days.
The meat can be served cold or warm.
---