Sweet Potatoes with Spinach + Crispy Honey Dijon Chickpeas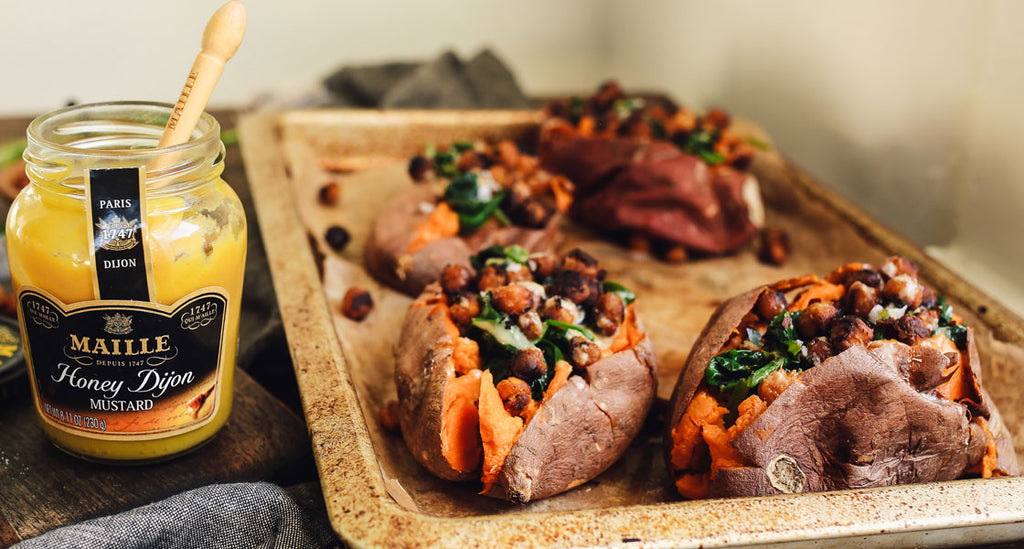 Prep Time: 15 minutes
Cook Time: 50-65 minutes
Servings: 4 large potatoes
Ingredients
Chickpeas
1 can chickpeas
2 ½ tablespoons Maille Honey Dijon Mustard
½ tablespoon olive oil
Pinch of salt
For the Potatoes
Preparation
Preheat oven to 400 degrees.
Rinse chickpeas. Pat dry and remove any skins. Then, in a mixing bowl, toss them with the Maille Honey Dijon Mustard, olive oil and a pinch of salt. Spread them out in a single layer on one of half of a baking sheet.
Pierce the sweet potatoes and place them on the other half of the baking sheet. Bake for 55-65 minutes, stirring the chickpeas every so often. Once the potatoes can easily be pierced through and the chickpeas are crispy, remove the tray from the oven and allow it to cool (the chickpeas may be done a few minutes before the potatoes, so you can simply remove them to a separate tray or dish, then continue baking the potatoes).
Meanwhile, in a large skillet set over medium heat, add the olive oil. Heat for 2 minutes, then toss in the spinach and salt. Cover and cook just until the spinach wilts, about 2-3 minutes. Remove from heat.
To assemble the potatoes, cut each in half. Add a ¼ teaspoon of mustard to each, then mash together with a fork. Divide the spinach evenly between the potatoes, then top with chickpeas. Toss back in the oven for 5 minutes, then remove, sprinkle with red pepper flakes, additional salt (to taste) and any optional toppings you'd like. If you choose to top with cheese, you can also add the cheese on top before baking the potatoes again to allow the cheese to warm and melt slightly. Serve immediately.
---