T-Bone steaks with Maille black truffle mustard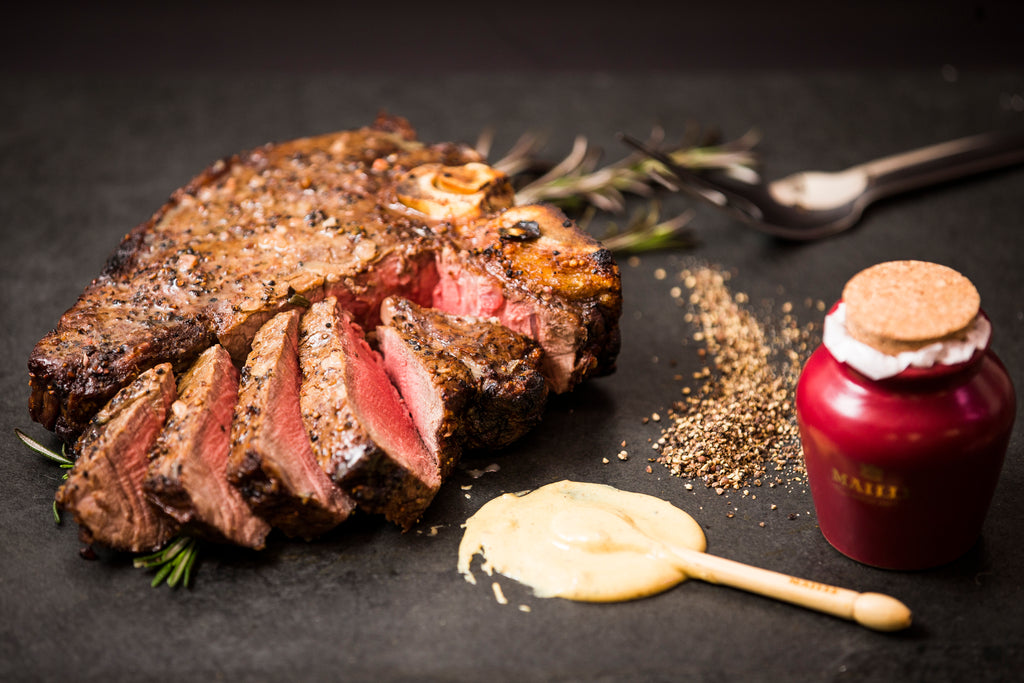 A quality, juicy succulent T-Bone steak needs, a very good quality mustard to elevate the flavours.
Ingredients
2 T-Bone steaks
Salt and pepper
1 garlic clove sliced
2 tbsps. of olive oil
A sprig of rosemary
Preparation
Salt and pepper your steaks and smother them with the Maille Chablis white wine and black truffle mustard.
Heat a heavy base frying pan and add the oil.
Once the oil is almost smoking add your steaks to the hot pan carefully.
Add the garlic on the side and the rosemary sprig to infuse with flavour.
For medium rare cook for 3.5mins on each side.
Transfer skillet to the oven. Roast until an instant-read thermometer inserted sideways into the steak registers 120 degrees F for medium-rare, about 6 to 8 minutes, if you don't have a thermometer.
Transfer steak to a cutting board and let it rest for 10 minutes. Cut steak from the bone and carve meat across the grain.
Maille Tip
If the pan isn't big enough for all your steaks, don't be tempted to squeeze them in anyway. Cook them one or two at a time then leave them to rest as you cook the remainder of your batch wrapped in foil.
---