Maille Truffle Mustardy Mac & Cheese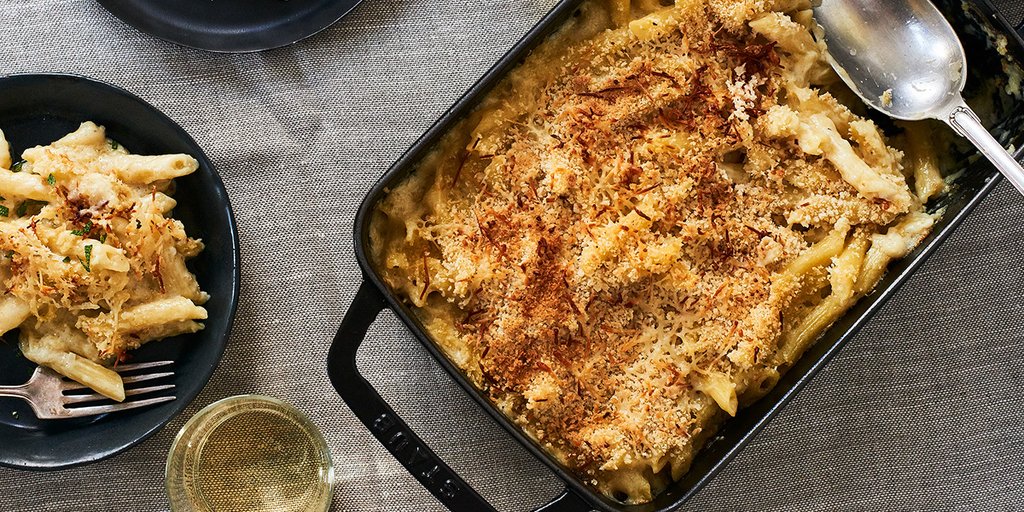 Ingredients
1 pound dried pasta, preferably penne rigate or cavatappi
½ cup (1 stick) unsalted butter
2 shallots, finely chopped
2 cloves garlic, finely chopped
1/3 cup flour
1 teaspoon kosher salt
3 cups milk
1/4 to ½ cups dry white wine, like a white Burgundy
2 to 3 tablespoons of Maille black truffle and Chablis mustard
3 cups grated Comte or Gruyere cheese
½ cup shredded Parmesan, divided
¾ cup breadcrumbs, preferably panko
sea salt, to garnish

 
Preparation:
Preheat oven to 350° F. Lightly grease or spray a 9- by 13-inch (3-quart) baking dish. (If you care to warm your milk before adding it, now's the time to place it in a large glass bowl and put it on a burner while the oven heats up.)
Fill a large pot with water and bring to a boil. Add the pasta and cook until very al dente (about 3 minutes shy of how you'd cook it normally for al dente doneness). Rinse under cold water to stop the cooking, drain, and set aside.
In a medium saucepan, melt the butter over medium heat. Add the chopped shallots (they'll be swimming in butter) and let them cook until translucent but not browned at all, about 5 minutes.
Add the chopped garlic and cook for 30 seconds, stirring constantly. Whisk in the flour and salt and cook, whisking constantly, for 1 minute.
Add the milk and continue to whisk constantly. Bring the mixture to a boil, then turn it down to low and continue to cook while you stir it until the mixture thickens. Add the herbs, wine, and Maille black truffle and Chablis mustard to the sauce, and continue to stir for 30 seconds. Then, add all the cheese except for 1/4 cup of the Parmesan. Stir until the cheese melts, then remove from the heat. Add the pasta to the cheese sauce.
Pour the mixture into your prepared pan. Top with the remaining 1/4 cup Parmesan cheese and the breadcrumbs.
Bake for 20 to 30 minutes, or until golden and bubbling on top. Depending on the size of your pasta, it will take more or less time.
Remove from the oven and transfer to a cooling rack. Cut into squares, garnish with sea salt and extra herbs if you'd like, and then serve while still piping hot!
---