Vegan Fall Harvest Salad with Kale and Pumpkin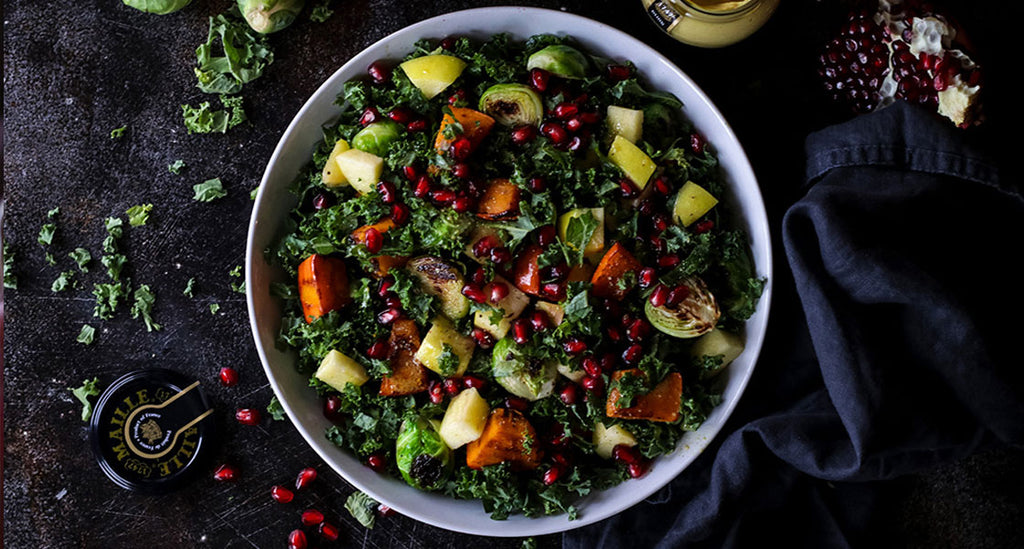 Recipe by: Happy Kitchen.Rocks
Serves: 8
prep time: 10 minutes
cook time: 20 minutes
Ingredients
For the harvest salad:
2 tablespoons olive oil, divided
7 oz or 200 g Brussels sprouts
½ medium-sized Hokkaido pumpkin
7 oz or 3 cups curly kale
1 apple
1/2 cup pomegranate seeds
For the maple-Dijon dressing:
2 tbsp maple
2 tbsp apple cider vinegar
3 tbsp olive oil
Salt and freshly ground black pepper to taste
Method
Cut the blunt end off each of the brussels sprouts and peel off a layer or two. Then cut them lengthwise in halves. Dice the pumpkin.
Heat 1 tablespoon of olive oil in a large skillet or frying pan over medium high heat. Add Brussels sprouts, cut side down, and cook for about 5 minutes until they start to brown. Flip and season with salt and pepper. Cover them and continue cooking for 3-5 more minutes until cooked through but still crunchy. Transfer to a bowl.
Add the remaining 1 tablespoon of olive oil to the skillet and add diced pumpkin. Cook for 5 minutes until deep golden brown, then flip around and cover with a lid. Continue cooking for 5 more minutes or until the pumpkin pieces are fork-tender but not mushy.
Remove the stems from curly kale and chop it. Transfer to a large bowl and add a pinch of salt. Massage the kale for about a minute or two, until it reduces in volume.
Prepare the dressing: In a small jar, mix together extra virgin olive oil, maple syrup, Maille Dijon Originale Mustard and apple cider vinegar. Add some salt and freshly ground black pepper to taste. Whisk until combined.
Add Brussels sprouts, pumpkin and diced apple to the kale. Stir to combine and add the dressing. Lastly, add the pomegranate seeds and gently stir them in, making sure not to break them. Enjoy!
---