Vegan German Potato Pancakes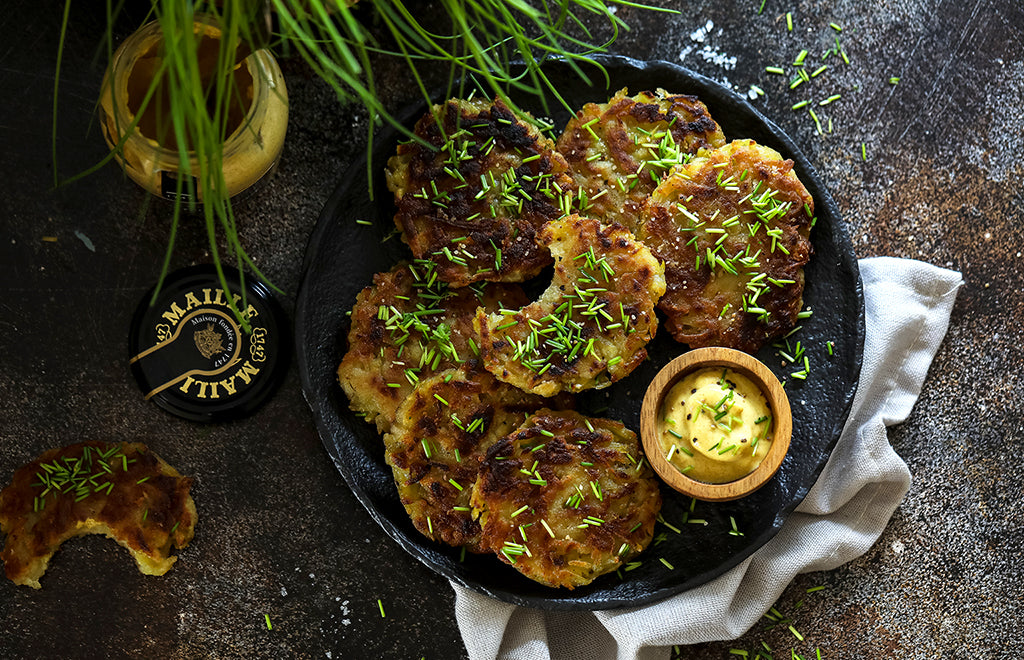 Recipe by: Kartoffelpuffer
Prep Time: 15 min
Cook Time: 10 min
Servings: 4
Ingredients
5 medium size Yukon Gold or Russet potatoes (about 600 g or 1.3 lb)
1 small yellow onion
¼ cup or 40 g all-purpose flour
½ teaspoon salt
¼ teaspoon black pepper
Chopped chives, to serve
Maille Dijon Originale, to serve
Preparation
Peel the potatoes and remove all the eyes with the tip of the vegetable peeler. Use a box grater or a shredder attachment of your processor to grate the potatoes.
Transfer into a bowl or colander that is prepared with a clean dish towel laid into it. Take the edges of the towel and twist the top until it squeezes the potatoes and drains the excess liquid. Make sure to squeeze as hard as you can!
Use the other side of your box grater to finely grate the onion. Alternatively, chop it or use a tablespoon of onion powder.
Transfer the squeezed potatoes to a medium bowl and add onion, flour, salt and pepper.
Prepare a large plate dusted with flour. Take a heaped tablespoon of the mixture and form a patty. It's a good idea to moisten your hands with water before doing that. Put it on a plate and repeat with the rest of the mixture (This recipe makes about 10 potato pancakes). Dust them with a bit of flour. and press with your fingers until it's flat.
Heat a lug of oil in a large frying pan or skillet to medium heat. Use a spatula to transfer the pancakes to the pan and press them down to make them flat. Don't overcrowd the pan. I recommend cooking them in batches so they don't stick together. Use the spatula to form the edges. Cook them for up to 5 minutes per side, or until golden brown and crispy. To keep them hot before serving, put them in the warm oven (70 °C/160 °F), while you fry the next batch.
Sprinkle with chives and serve immediately with Maille Dijon Originale Mustard, ketchup, vegan sour cream, apple sauce or your favorite dip. Enjoy!
---