Vegan Grilled Potatoes Cooked In Spicy Mustard Gravy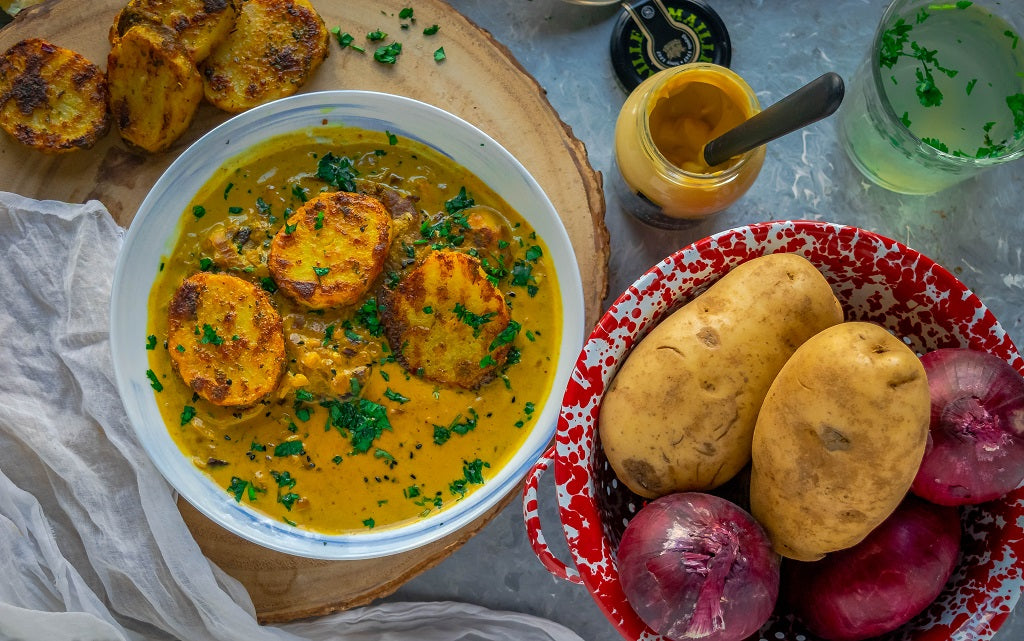 Recipe by: Priya Lakshminarayan of Cookilicious
Servings: 4 people
Ingredients
For the grilled potatoes: 
2 potatoes
2-3 tbsp corn flour
½ tbsp Paprika
1 tsp Cumin powder
1 tsp Onion powder
2 tsp garlic powder
1 tbsp dried parsley
For the spicy mustard gravy: 
1 tbsp cooking oil
1 tbsp Kalonji/Nigella seeds
1 onion
1 tsp turmeric powder
2 tsp Curry powder/Garam masala
1/2inch ginger
4-5 cloves of garlic
½ cup water
1 cup coconut milk
Salt to taste
Cilantro for garnish  
Preparation
Potato Prep:
Use parboiled potatoes for this recipe. Peel them, and chop them into big chunks or thick slices. In a bowl, add corn flour, paprika, cumin powder, garlic powder, onion powder, salt and dried parsley and mix well together. Toss the potatoes into this mix and make sure the slices are coated well. Leave for about 30 minutes.
Grilling:
Heat a grill pan (or use your BBQ grill) and once its hot enough, grill the potatoes in oil until they are to your liking (I usually use a medium flame and keep them on until they're medium done). Keep aside for now.
Spicy Mustard Gravy:
Heat oil in a pan, add Nigella seeds(Kalonji) and fry them for 15 seconds. Then add chopped onions to the pan and saute them until they turn translucent. Next, add the Turmeric powder, Garam Masala/Curry powder, minced ginger, minced garlic and salt. Add 1-2 tablespoons of water to the pan when you add the dry spices above. This helps to prevent them from sticking to the pan and burning. Cook the spices for 1-2 minutes. Now add the Maille Traditional Dijon Originale Mustard along with some water. Mix and cook for 4-5 minutes or until it's thick and creamy. Once the sauce starts to bubble and releases a nice aroma, add coconut milk. Be careful to not overcook the coconut milk as it curdles on high heat. Switch off the flame. Add the grilled potatoes to the pan and mix lightly. Garnish with Cilantro. This dish can be savored all by itself, or you can serve it hot with rice or any Indian bread like roti or naan.


---