Maille Vegetarian White Bean Cassoulet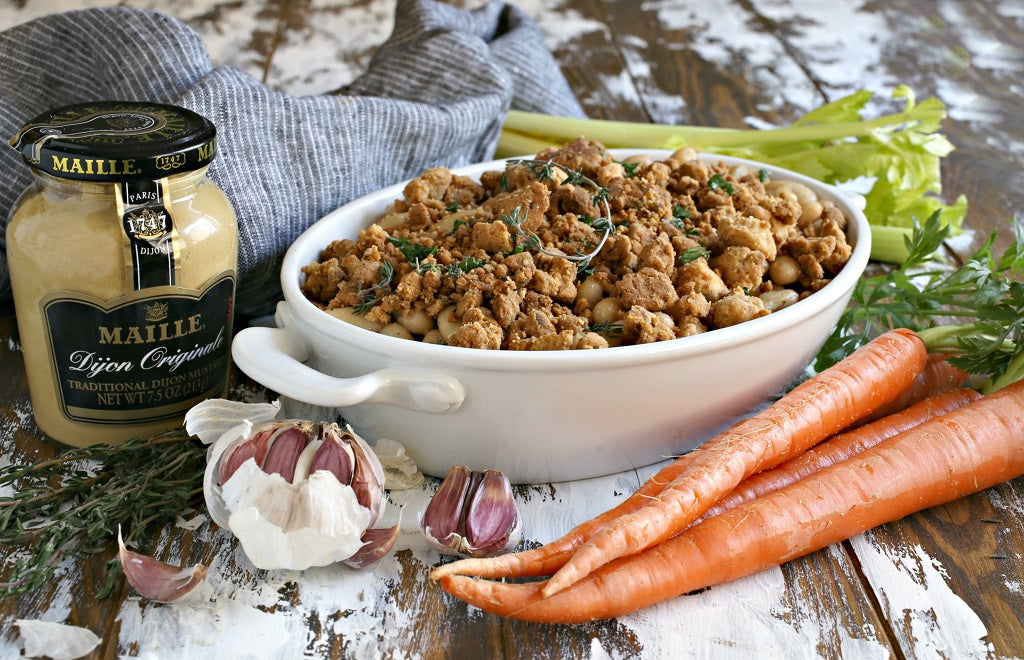 Recipe created by: Hungry Couple NYC
Servings: 8
Ingredients
Filling:
2 Tablespoons olive oil
1 Tablespoon butter
1 Onion, peeled and diced
4 Carrots, peeled and sliced
3 Stalks celery, diced
2 Cloves garlic, peeled and minced
3 Tablespoons all-purpose flour
2 Cups vegetable stock
2 Cans (approximately 15 oz. each) white beans, rinsed and drained
1/2 Teaspoon salt
1/4 Teaspoon black pepper
1 Teaspoon Maille Dijon Originale Mustard
1 Bay leaf
Small handful of fresh thyme
1/4 Cup Parmesan cheese
Crumb Topping:
4 Tablespoons unsalted butter, melted
1 Teaspoon Maille Dijon Originale Mustard
2 Tablespoons Parmesan cheese
1/4 Teaspoon salt
3/4 Cup all-purpose flour
Preparation
Add the olive oil and butter to a large deep skillet or braising pan. Add the onions and cook for about 10 minutes, on medium heat, until they become translucent.
Add the carrots and celery and continue cooking for another 10 minutes until they begin to soften.
Stir in the garlic and cook for an additional minute.
Stir in the flour and cook for a couple of minutes then pour in the stock.
Stir in the beans, salt, pepper, Maille Dijon Originale Mustard, bay leaf and thyme. Cover, reduce the heat to low and cook for about 20 minutes. Stir in the cheese and mash some of the beans with a potato masher.
Pre-heat the oven to 400 degrees and transfer to bean mixture to a casserole dish (optional).
In a bowl, combine the melted butter, Maille Dijon Originale Mustard, cheese, salt and butter. Using your hands, form clumps of the dough and scatter over the bean mixture. Bake for 30-40 minutes or until the crumb topping begins to lightly brown.
---