Warm chicken salad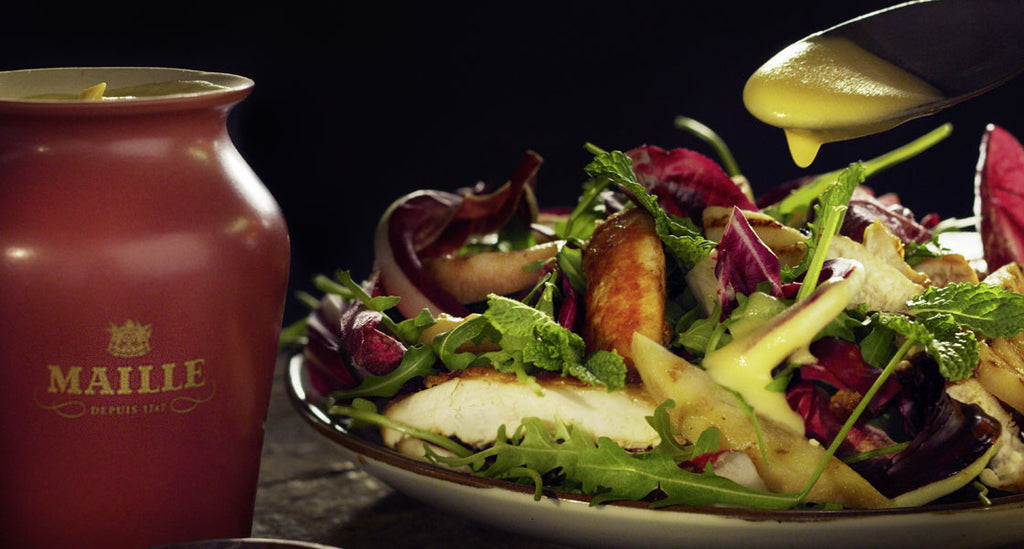 Prep Time: 20 minutes
Servings: 2
Those crisp chilly spring days where you need something light yet warm and wholesome, warm chicken in a salad is my go-to comfort.
Ingredients
2 red chicories
1 pear
1 chicken breast
2 cups of rocket
1 cup of fresh mint leaves
1 cup olive oil
4 tablespoons of Maille Dijon original for the classic version or Rose wine mustard for the Gourmet version
Preparation
Halve the chicken breast and smear with 2 tablespoons of Dijon mustard, grill in a hot grill with 1 tablespoon of the olive oil and cook until well done throughout (not pink), remove and place aside on a plate.
Peel the pears and cut in quarters and grill in the same pan.
Separate the chicory leaves and layer alternatively with the rocket, mint and top with the chicken and pears in a shallow bowl.
Combine the remaining oil, mustard and white balsamic condiment into a vinaigrette and pour over the salad.
Tips:
You can use any herb or salad base for this recipe.
---