Warm Lentil + Roasted Squash Salad with Maple Dijon Dressing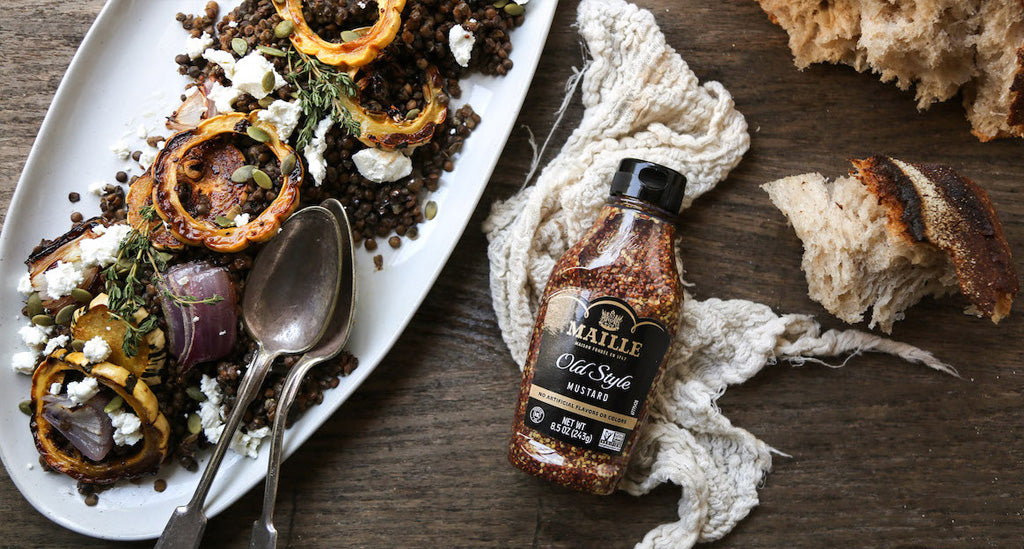 Recipe by: Runway Chef
Prep Time: 10 minutes
Cook Time: 25-30 minutes
Servings: 3-4


Ingredients
1 medium delicata squash, sliced into 1/8" thick slices
3 cups lentils, cooked in your preferred method
1 large red onion, quartered
1/3 cup goat cheese crumbles
2 tablespoons toasted pumpkin seeds
Fresh thyme
Fresh bread, for serving (optional)
Dressing/Marinade
3 tablespoons Maille Old Style Mustard
1/4 cup olive oil
2 tablespoons apple cider vinegar
4 teaspoons maple syrup
1/2 teaspoon salt
Dash of fresh ground pepper
Preparation
Preheat oven to 425 degrees.
In a small bowl, whisk together all dressing ingredients until well combined. Set aside half of the dressing for serving.
Toss the squash and onion in the remaining dressing. Spread out in a single layer on a baking sheet. Roast until the squash can easily be pierced with a fork and the vegetables are golden brown (about 25-30 minutes).
In a serving dish, add the warm lentils and top with the roasted vegetables. Drizzle with remaining dressing, then sprinkle the goat cheese and pumpkin seeds on top along with some fresh thyme. Serve warm, with bread (to soak up all the Maille Old Style Dijon Dressing) on the side (if desired).
Leftovers can be stored in an airtight container in the refrigerator and eaten cold.
---