Whole Roasted Cauliflower in Mustard Sauce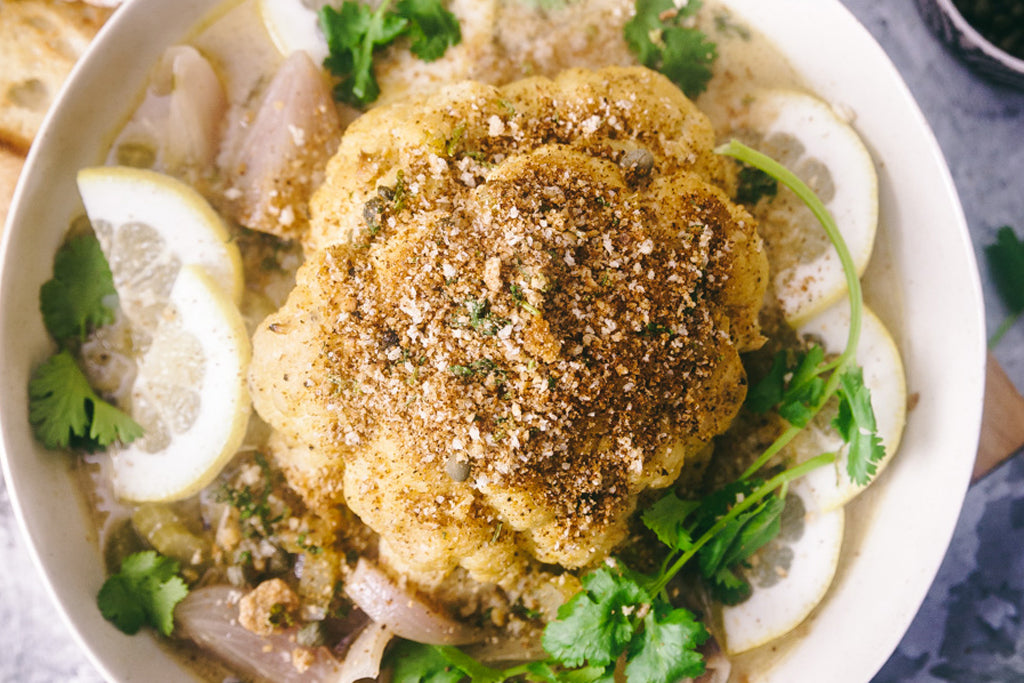 Recipe by: Playful Cooking
Serves: 4
Ingredients
for the mustard sauce
2 tablespoons Dijon mustard
2 cloves garlic, grated
1-teaspoon maple syrup
¼ cup extra virgin olive oil
2 tablespoons lemon juice
1-teaspoon salt
1 teaspoon freshly cracked black pepper
for the stock:
1-cup veggie stock
4 shallots, cut in half or left whole based on the size
2 celery sticks, chopped bite size
2 tablespoons butter
1-teaspoon capers
for toasted bread crumbs
½ cup breadcrumbs
1-teaspoon butter
2 tablespoons fresh finely chopped cilantro
Method
Prepare the mustard sauce by whisking maple syrup, virgin olive oil, lemon juice, salt, black pepper, and Dijon mustard.
For toasted bread crumbs, add the butter in a pan along with the breadcrumbs and finely chopped cilantro leaves. Stir around and toast for 2 minutes. Keep it aside once done.
Preheat oven 375 F.
Trim the leaves off the cauliflower and trim the end in a way so that you can make the cauliflower sit properly.
In an ovenproof dish, pour the stock and add the shallots along with the celery sticks.
Flip the cauliflower head and pour half the mustard sauce in a way so that it goes deep into the core. Then, flip it and place the cauliflower head in the pan. Rub the butter on the cauliflower head along with the rest of the mustard sauce.
Cover it loosely with an aluminum foil and bake it for 50 minutes. Then, remove the aluminum foil and roast for 15 to 20 minutes.
While serving, top it with the toasted breadcrumbs and fresh cilantro leaves.
Enjoy it warm.
---